About Snowalker
I live in the Northeast region of the US where I am fortunate to live in a community of awakening and resilient people. I specialize in solar thermal and energy efficiency technologies and consult with town leadership on improving energy utilization and reliability.
I am an avid SOTT reader since 2001 and have benefited immensely from what I have learned here.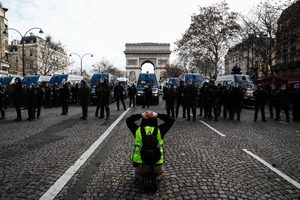 L'elite contre le peuple
Few people have the imagination for reality.
- Johann Wolfgang von Goethe
Recent Comments
WOOT WOOT...Civil War 2.0...bring it! I have an orange and a yellow vest ready to go...
---
And they still can't bust Trump for anything.
---
I'm curious how many recipients will be illegal immigrants or a product of illegal immigrants? Oh and who really pays for it? Tax increase?
---
Everett Dean Martin wrote on this in "The Behavior of Crowds" (1920) [Link]
---
Of course, seen as a neocolonial occupying force utilizing both hard and soft power to entrench US hegemony and guarantee the free flow of...