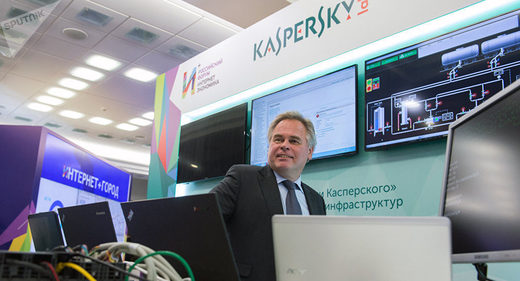 In September, the US Department of Homeland Security ordered state agencies to stop using Kaspersky Lab products over their potential threat to US cybersecurity
, amid fears that the firm has ties to state-sponsored spying programs.
The head of Kaspersky Lab refuted the cyber-espionage allegations saying that the company has never been involved in spying for the Russian intelligence, Reuters reported on Thursday. He also added that he would move Moscow-based Kaspersky Lab out of the country if he ever received such a demand.
CEO Eugene Kaspersky stated that his company is under attack by the US media and the US government which are spreading lies about the Russian cyber-security giant
, acknowledging that these attacks will do harm to the firm.
Due to the misleading media coverage, Kaspersky Lab's revenues in the US will be about 5 to 8 percent lower this year, according to the CEO.
However, he noted that income in the rest of the world will see double-digit growth, except Europe where it is expected to stagnate.
The
Wall Street Journal
reported in early October that in 2015 Russian hackers had stolen classified data from an NSA contractor's personal computer using Kaspersky software.
In September, the US Homeland Security Department
ordered state agencies and departments
to remove Kaspersky products, citing security risks.
The firm has repeatedly denied working for any government, calling such
claims groundless and paranoiac
.
Later the UK government banned federal agencies from using cybersecurity software made by Russian company as well, citing suspicions that Barclays customers, who got a free subscription to Kaspersky Lab, may have been targeted by the firm's alleged spying program.