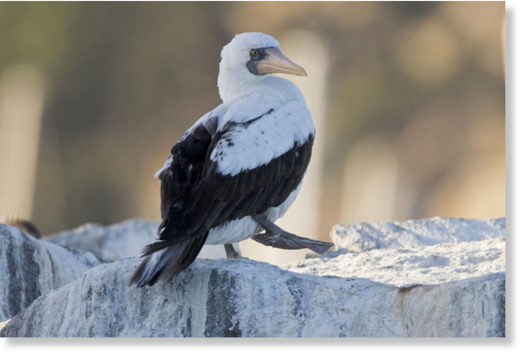 At Dana Point on Monday, Robin Lowe was on a mission — to get a glimpse of a rare bird said to be hanging out near local waters far from its home on the Galapagos Islands.
"I'm still smiling ear to ear," she said after seeing the Nazca Booby casually hanging out with pelicans on a jetty. "To be able to see it today, it's hard to grasp the words. I'm just so thrilled to be able to see this. It's once in a lifetime. Here it was in our backyard, in the Dana Point harbor."
Bird-watching enthusiasts flocked to the Orange County harbor clutching binoculars and long lenses hoping to see the Nazca Booby.
The bird was spotted in Newport Beach two weeks ago, then by a deckhand on the fishing boat
Sum Fun
on Sunday, and again Monday on the rock jetty where boaters enter and exit the harbor, said Donna Kalez, manager of Dana Wharf Whale Watching.
"I guess it's super-duper rare," said Kalez, noting that whale-watching was slow Monday, but bird enthusiasts got a treat. "People are really excited about this bird."
The Nazca Booby breeds primarily on the Galapagos and Malpelo archipelagos but on occasion can be found offshore from mainland South America,
with small breeding populations along the Ecuadorian and Peruvian coasts as well as in the Pacific Coast of Central America, according to The Cornell Lab of Ornithology.
Lowe, a naturalist with the American Cetacean Society, said she showed a picture to the Dana Wharf Whale Watching deckhands, and one immediately spotted the bird just as they were leaving the harbor.
"We were already rounding outside the harbor — all I got were rear-end shots," she said.
By the time the boat returned, the bird was gone.
She decided to stay on for another two-hour trip, just in case she could get another glimpse of the tropical bird, and she's glad she did.
There it was, sitting among other birds on the jetty.
"Amazing, amazing, amazing to see," Lowe said.
Lowe said she could only speculate on why the bird is in the area. Perhaps the warm weather brought it here, she said. Or it could have something to do with the squid off the local waters, which this species feeds on.
She said the last time she heard of this species of Booby in the area was a decade ago — a sick bird that didn't survive. She's said she's seen a few Brown Boobys locally, and a few years ago saw a Blue-footed Booby.
But Monday's sighting is one Lowe said she'll never forget.
"It's the coolest," she said.