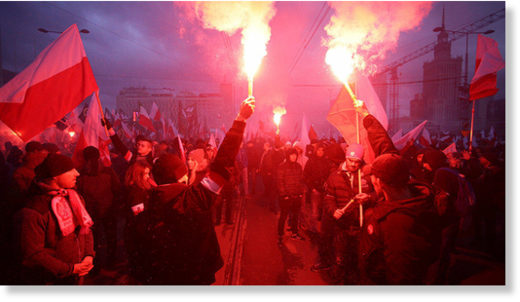 The EU Parliament has adopted a resolution calling on Poland to uphold common European values, warning that if Polish authorities refuse to comply it could lead to the suspension of voting rights in the EU Council.
The resolution
calls
on Warsaw to respect the right of freedom of assembly, to strongly condemn the "xenophobic and fascist march" that took place in Warsaw on November 11, and to provide free and accessible contraception without discrimination, while making emergency contraception available without medical prescription.
Polish President Andrzej Duda signed off on a law in June which turned emergency contraception into a prescription drug. Poland also has some of the most restrictive abortion laws in Europe, banning all terminations unless the pregnancy is the result of incest or rape, poses a health risk to the mother, or the fetus is severely deformed.
The resolution also calls on Poland to comply with the European Court of Justice's (ECJ) order to "immediately suspend large-scale logging" in the Bialowieza forest, a UNESCO World Heritage Site. Activists and the EU claim Warsaw has ignored the ECJ's ruling to halt logging in the forest.
"MEPs believe that the situation in Poland represents a 'clear risk of a serious breach' of the European values, including the rule of law, enshrined in the EU Treaty," the EU Parliament wrote on its website. "Parliament decided by 438 votes to 152 with 71 abstentions to prepare a formal request that the Council activate the preventive mechanism provided for in Article 7.1."
It notes that if Warsaw refuses to comply with EU recommendations, it could face a "suspension of Poland's voting rights in the Council."
It comes amid an ongoing feud between Brussels and Warsaw. The EU and Poland's Euroskeptic and socially conservative Law and Justice (PiS) party have been engaged in ongoing disputes since the party came to power in late 2015. The PiS has been urging changes to the Polish judiciary and other institutions, citing the need for a so-called moral renewal of the country.
Protests erupted over the efforts to change the judiciary system. Opposition parties, rights groups, judges' lobbies, the Council of Europe, the EU Commission, and European countries including Germany and France also said the proposed changes would erode judicial independence by bringing the courts under the direct control of the government.
Poland and the EU have also clashed over migration, as Warsaw has refused to accept migrants as part of a quota system devised during the European refugee crisis. Polish Prime Minister Beata Szydlo said on Monday that the decision has resulted in her country being seen as "a country free of terrorism."
The EU Parliament noted that this is only the second time is has "taken formal steps to call on the Council to start the Article 7 procedure." The first was taken in May 2017, in regards to Hungary. That procedure is "still underway," the parliament wrote.