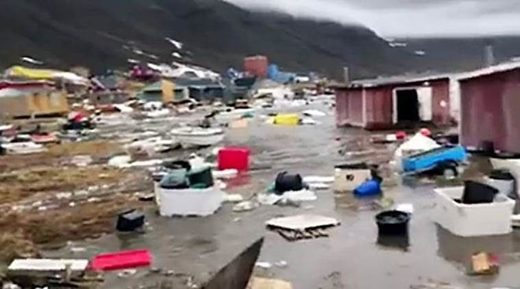 Four people were listed as missing today after an earthquake sparked a tsunami off Greenland and forced some residents to be evacuated. "Four people are missing," local broadcaster KNR quoted local police chief Bjorn Tegner Bay as telling a news conference in the autonomous Danish territory.
There were no confirmed fatalities, but Bay said 11 houses had been swept away after a magnitude 4 overnight quake off Uummannaq, a small island well above the Arctic Circle.
"The huge waves risk breaking over Upernavik and its environs. The residents of Nuugaatsiaq are going to be evacuated," police said on
Facebook
, referring to nearby hamlets.
Some residents posted images to social media showing huge waves breaking over buildings in the town.
"A good explanation is that the quake created a fault at the origin of a tsunami,"
meteorologist Trine Dahl Jensen told Danish news agency Ritzau, warning of potential aftershocks.
"It's not normal, such a large quake in Greenland,"
she said. KNR quoted Ole Dorph, mayor of Qaasuisup, a municipality in the area affected, as lamenting "a serious and tragic natural catastrophe which has affected the whole region."
Danish Prime Minister Lars Lokke Rasmussen tweeted news of what he termed a "terrible natural catastrophe at Nuugaatsiaq." The world's largest island situated between the North Atlantic and Arctic oceans, Greenland, population 55,000, has an ice sheet particularly vulnerable to climate change.
According to the police chief, it struck off Uummannaq, a small island well above the Arctic Circle.
Meteorologist Trine Dahl Jensen told Danish news agency Ritzau that for such an earthquake to hit Greenland was "not normal", as she warned of the risk of aftershocks.
Emergency services were initially called at 22:15 local time (00:15 GMT) to reports of major flooding in the village, the Greenland Police's Facebook page said.
There were also reports of waves striking two other villages.
A helicopter flying over the area reported "big waves" spotted about 24 miles off the coast.
A total of 39 people have been evacuated from Nuugaatsiaq. A number of injuries have been reported.
Source: AFP
Comment:
For a more comprehensive overview of the changes occurring on our planet, check out Pierre Lescaudron and Knight-Jadczyk's book explaining how all these events are part of a natural climate shift, and why it's taking place now:
Earth Changes and the Human-Cosmic Connection
.