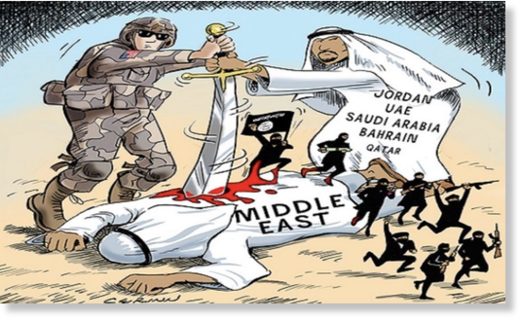 This week's episode of "Empire Gone Wild" features our freshly inaugurated dear leader, Donald Trump, who appears determined to enthusiastically continue the Obama administration's policy of recklessly arming Saudi war criminals.
First, here's a little background from
The Washington Post:
The State Department has approved a resumption of weapons sales that critics have linked to Saudi Arabia's bombing of civilians in Yemen, a potential sign of reinvigorated U.S. support for the kingdom's involvement in its neighbor's ongoing civil war.

The proposal from the State Department would reverse a decision made late in the Obama administration to suspend the sale of precision guided munitions to Riyadh, which leads a mostly Arab coalition conducting airstrikes against Houthi rebels in Yemen.

While the U.S. military has provided support to the Saudi-led air campaign since 2015, including aerial refueling for Saudi jets and a U.S. advisory mission in the Saudi operations headquarters, the Obama administration sought to scale back that support last year amid alleged Saudi strikes on civilian targets.
Of course, this "scaling back" of support only emerged following massacre upon massacre. For a little more background history, see:
Despite Saudi hopes that the conflict would quickly restore Hadi to power, it is now approaching its third year. As of January, the conflict had led to the deaths of at least 10,000 civilians, according to the United Nations.

Pressure increased on the Obama administration in October, when Saudi jets attackeda Yemeni funeral hall, killing more than 100 people. At the end of a review prompted by that strike, the Obama White House made the decision to halt the planned sale of roughly $390 million worth of precision munitions guidance systems to the kingdom.

Trump has already supported the expansion of a separate military campaign in Yemen, one that U.S. forces are now waging against al-Qaeda in the Arabian Peninsula (AQAP), a potent militant group that has grown stronger amid Yemen's instability.

If the White House gives its blessing to the new State Department position, the administration would then notify Congress about its intent to move forward with the sale. It could encounter resistance on Capitol Hill.

"If you are interested in radicalizing the Yemeni population against the United States and pushing them into al-Qaeda's arms, then continue to sell weapons to Saudi Arabia," said Sen. Chris Murphy (D-Conn.). "The Saudis are deliberately going after civilian targets."

Last fall, Murphy was the co-sponsor of a measure that would have blocked a separate sale of Abrams main battle tanks to Saudi Arabia. While the measure did not pass, it was a rare public sign of frustration with an allied nation that has been an important customer for U.S. defense companies.
That last sentence tells you all you need to know about what really drives U.S. policy in the region.
Moving along, although the situation looks bleak, there's a chance for bi-partisan resistance in Congress which could prove more effective than the last go around.
As
Al-Monitor
reports:
Congress is bracing for another showdown over arms sales to Saudi Arabia less than six months after lawmakers' last fight on the issue.

The Donald Trump administration is expected to formally notify lawmakers soon of its intention to resume the sale of precision-guided munitions that were put on hold by President Barack Obama. The notification would automatically trigger a 30-day review period during which Congress can try to block the sale.

"We'll have the same debate we had in the fall on it," said Senate Foreign Relations Committee member Rand Paul, R-Ky. "We will oppose it."

The Washington Post reported March 8 that the State Department has approved the sale, kicking it over to the White House for a final determination. Obama blocked the sale of 16,000 precision-guided munitions from Raytheon worth more than $350 million in December following a Saudi strike on a Yemeni funeral that killed more than 100 people.

Paul told Al-Monitor he expected to team up with fellow committee member Chris Murphy, D-Conn., on trying to block the sale, just as they did last fall with a $1 billion tank sale to Riyadh. That resolution trying to block the sale was defeated 71-27 after resolution opponents insisted that the tanks were in fact defensive weapons meant to keep southern Saudi Arabia safe from incursions by Iran-backed Houthi rebels.

"There were some members who voted against our resolution last time because [they said] it wasn't the right arms sale [to oppose]," Murphy told Al-Monitor. "Well, this is clearly the right arms sales. We heard testimony in the Foreign Relations Committee that nothing has gotten better with respect to Saudi targeting. I don't know why we would give them precision-guided munitions that allow them to target civilians more efficiently."

Murphy was referring to a Senate Foreign Relations panel hearing on US policy in Yemen on March 9 during which the arms sale repeatedly came up. Earlier in the day, Amnesty International released a report accusing Saudi Arabia of using banned cluster munitions in raids on residential areas.
Let's hope Congress does the right thing for once, but I'm not holding my breath. Defense companies pay too well.