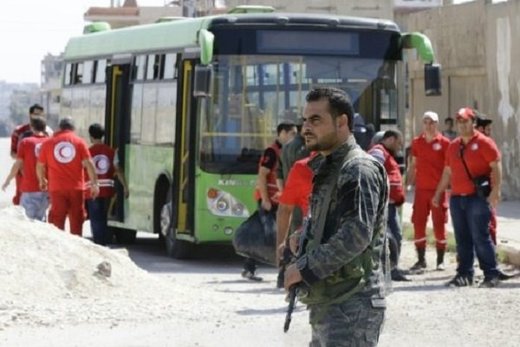 More than 120 rebels and dozens of their relatives on Thursday left the last rebel-held district of Syria's Homs city under a deal with the regime, the governor said.
The group was the second wave of fighters to leave the Waer neighbourhood under an agreement reached between opposition and government forces in December.
The United Nations oversaw the original deal but was not present during Thursday's operation, and its decision to stay away delayed the evacuation, which had been due to start Monday.
Homs governor Talal Barazi told reporters that "123 armed men and 157 civilians from the families of the armed men left to northern Homs province".
The evacuees were headed to Dar al-Kubra, which is under rebel control.
An AFP team at the entrance to the neighborhood saw dozens of gunmen leaving early Thursday, accompanied by family members, mostly women and children.
Some of the gunmen were carrying light weapons as permitted by the deal, with a number covering their faces and wearing military fatigues.
They boarded several green buses, carrying suitcases and other belongings under the supervision of Syrian soldiers and some Russian troops.
The evacuation operation had been scheduled to begin on Monday, but was delayed by the UN's absence.
Earlier this month, the UN's envoy to Syria, Staffan de Mistura, criticized a "strategy" of evacuations from besieged rebel-held communities under deals with the government. His comments followed a deal between the government and rebels in Daraya town outside Damascus, emptied of residents and opposition fighters after a four-year army siege. De Mistura warned there were "indications that after Daraya we may have other Darayas."
But Barazi, the Homs governor, on Thursday criticized the United Nations. "We regard with amazement the failure of the UN and international organizations to play their humanitarian, social and political role at this stage," he said.
A source in the governorate denied that the evacuation deal involved emptying Waer, which has 75,000 residents. "The civilians who left today are the families of gunmen. None of the other civilian families left, and they are welcome in the district," he told AFP.
The agreement was reached in December and envisions Waer coming under government control in exchange for the lifting of a devastating three-year siege.
Homs was once dubbed the "capital of the revolution" because of the large-scale protests held there when the Syrian uprising began in March 2011.
After years of devastating fighting, the Syrian government retook control of all of the city except Waer in May 2014.
More than 300,000 people have been killed in Syria since March 2011.