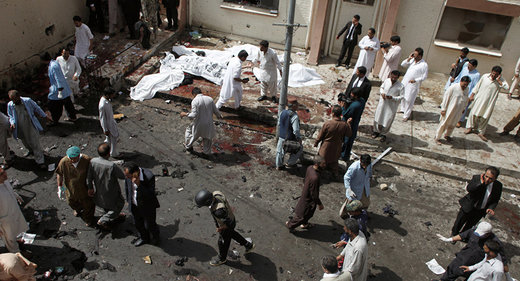 Russian President Vladimir Putin has offered assistance to Pakistan in the fight against terrorism after a blast killed at least 70 people at a hospital in Quetta earlier on Monday.
The
explosion ripped through the hospital
in the restive Balochistan province as the body of recently-killed Bilal Anwar Kasi, the president of the Balochistan Bar Association (BBA), was being brought in. The majority of mourners were reportedly lawyers and journalists.
"We decisively condemn this cynical, inhumane crime... I'd like to reiterate that the Russian side is ready to bolster cooperation with Pakistani partners in the fight against terrorism," Putin said.
The Russian leader expressed condolences to the Pakistani president and prime minister. He said Moscow hoped that the contractors and perpetrators behind the deadly explosion would face justice they deserve.
Pakistani local authorities blamed the attack on Jamaat-ur-Ahrar, an Islamist militant group that split away from the Taliban. The authorities said the attack could have been carried out by a suicide bomber.