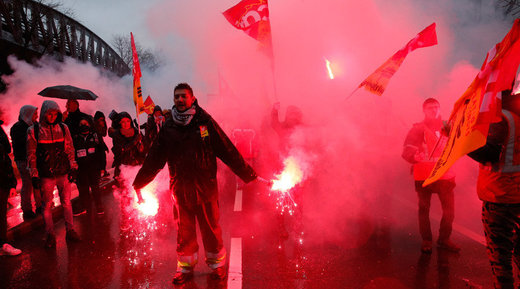 French railway services are facing major and continuous disruptions after a major union announced weekly two day strikes starting from next Wednesday. Railway workers are
battling for their rights amid EU push for more competition in this sector across France.
"We have filed an advanced notice that is unlimited and renewable, for 48 hours each week over Wednesdays and Thursdays," a General Confederation of Labor (CGT) spokesperson said.
The country's third largest union, the SUD-rail union, has also called for an indefinite strike from Wednesday, May 18.
Rail transport in France is mostly operated by SNCF, and the latest announcement of the strike will certainly affect the national railway system. The new walkouts will follow similar strikes that have taken place on three occasions since March, paralyzing commutes. Last time the strikes were backed by all four unions: the UNSA (National Union of Autonomous Unions), CGT, Solidaires Unitaires Democratiques (SUD) and French Democratic Confederation of Labor (CFDT).
The strikes are the result of a long-running dispute between SNCF and the unions over workers' pay and working conditions. The SNCF hopes to reduce rail workers' rest periods and other protective work practices, to prepare the company for EU-wide legislation which places passenger services in the hands of the free market.
The railway sector is scheduled to be opened up to full-on competition, firstly for high-speed lines in 2020. To make the competition work, the operator wants to harmonize the working conditions and rules between SNCF workers paid by the state and those employed by private companies. French rail workers in particular enjoy enviable job and pension rights.
Workers are guaranteed 52 weekends (two consecutive days off) per year, but the proposal would reduce this to 30 per year. Employees are also guaranteed 14 hours between shifts but the proposal would shorten the break to 13 hours. Furthermore current employees are guaranteed to not spend more than one night away from home, while the new initiative would allow up to three days away from home.
The freshly-announced strikes come as violent anti-labor reform clashes with police rock France. In Paris, police used teargas on Thursday to disperse activists at the tail-end of an afternoon street march.
The clashes came in response to a government announcement that would deny the National Assembly a vote on proposals to make it easier to lay off workers during hard times and other labor reform issues. Opponents say the proposals could deepen job insecurity for young people and threaten cherished workers' rights.