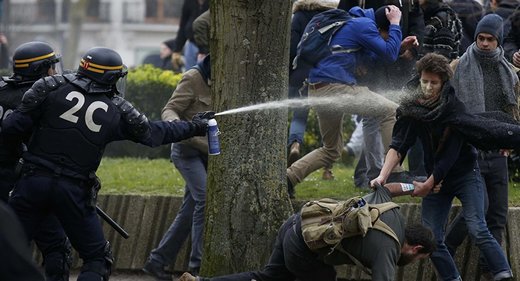 Up to 50,000 Parisians protested a labor reform bill pushed through French parliament this week in a show of public discontent that turned violent, French television reported Thursday, citing labor unions.
Police fired tear gas at anti-reform demonstrators outside the parliament building ahead of the no-confidence vote in the lower-house National Assembly.
The protests followed Tuesday's demonstrations when the Socialist government applied a rarely-used clause to bypass a National Assembly vote on a bill that will relax hiring and firing rules to curb rising unemployment.
The 50,000 figure compiled by trade union organizations and cited by France's BFMTV stood in contrast of city police estimates that up to 12,000 people took part in the rally.
The unrest led to four arrests on gun possession and attacking police with bottles, rocks and other items. Six similar arrests took place in Cannes and five more in Nantes.
Among the labor reforms proposed by Prime Minister Manuel Valls' government are highly unpopular attempts to increase daily working hours and simplify firing procedures.
Knowing that the draft law would be rejected by lawmakers, the French government invoked article 49.3 of the constitution allowing the prime minister to pass a bill through the parliament without a vote if necessary. Triggering the clause allows the French parliament to debate a vote of no confidence against the government.
If Thursday's no-confidence vote succeeds, Valls' Cabinet will have to step down and repeal the bill or else it will go before the Senate.