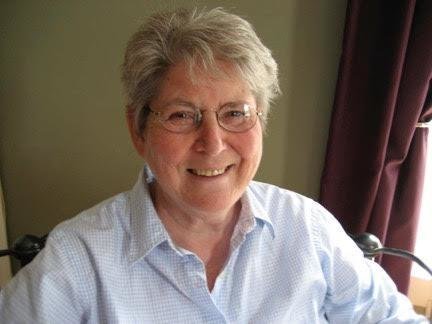 The daughter of the Quincy College Professor, who is also a retired holistic doctor, remembers her mother as someone "who wanted other people to succeed," says the
Boston Globe
.
Dr Rasmussen, who taught classes on the subjects of biology (and nutrition as described below) was stabbed more than thirty times and found dead in her Plymouth home this past week. She was 76 and "a devoted grandmother, and former foster mother to at least 20 kids," said her daughter.
The article states:
"She stated that her mother, a native of Denmark, who moved to Massachusetts from Indianapolis after her retirement to be close to her, had a great sense of adventure. She always rode her bicycle and once took a summer job driving a bus on Martha's Vineyard just because it seemed like a fun thing to do."
This case reminds us, in some ways, of the very
recent
tragic case of Dr Han. He and his family were found dead in their home
just weeks ago, and soon thereafter authorities said a young, white male was the suspect. That particular suspect (now arrested) had no prior record either, and lived with his father who was EX CIA.
Then there was
the case of the Osteopath who was also stabbed to death in her Pennsylvania home just months ago.
There are allegedly no suspects in her death and, as in this case, no motive.
In regard to the tragic death of Dr Rasmussen, police are searching for
suspect Tyler Hagmaier, 24, who was a neighbor. It has been alleged that he is mentally unstable, though at least one relative of Hagmaier's said that she,"had no information about any mental health problems he may have dealt with."
Hagmaier's abandoned Toyota Prius was discovered Friday evening on the French King Bridge over the Connecticut River in Gill. Investigators searched for Hagmaier's body in the river.
Reports say the weather wasn't cooperating (they did use sonar) and at time of this publishing they haven't found him or his body yet, nor do we see any definitive proof he'd even be in the river at this point, but we'll wait for the investigation to continue.
See recent mysterious deaths of doctors in rivers being investigated by the families who question the official story by authorities
here
and
here.
The article also stated:
" spokeswoman said Sunday that there was still no word on a motive."
We are trying to see if Hagmaier has ever had a record of being violent with anyone in his past or what possible motive he would have to murder such a great Professor and chiropractor. The
Boston Globe
said authorities stated he was never arrested or charged with anything in the past.
We will continue to report on this and are so sorry for the loss of a woman who sounds like she was a wonderful Professor, chiropractor, grandmother and mother to many.
"One of her students, Heather Lynch, 25, said she was scheduled to attend Rasmussen's biology class Saturday morning. She said another student informed her of Rasmussen's death.

"She was very much into bringing real life into what we were learning," said Lynch, who lives in Plymouth. "She was so personable. Going to class wasn't boring."

Rasmussen was interested in nutrition, advising her students to stick to the perimeter of the supermarket when they went grocery shopping, Lynch said. The center aisles, Rasmussen warned, were where stores displayed their most unhealthy products, Lynch said.

She also told students that she got her salt from the ocean, not a store, by collecting seawater and letting it evaporate, Lynch said.

"She was so vibrant," she said.
Our thoughts go out to her family and friends.
Source:
Boston Globe