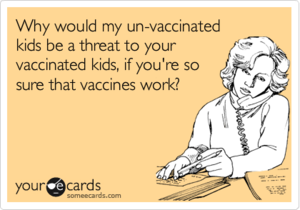 Hail to the group! The group is all!
The concept of herd immunity (protection for the population) is often used by vaccine addicts as a way to push guilt at people who don't line up, with their children, like robots for their shots.
From the point of view of protecting people who are already vaccinated, herd immunity is flat-out absurd.
Little Jimmy, whose parents have decided not to vaccinate him, will pass diseases on to kids who are already vaccinated? Oh, you mean those immunized kids aren't really safe? Then why did you vaccinate them in the first place?
From another point of view, herd immunity is the idea that people who "can't be" vaccinated (for example, those who are obviously allergic to elements contained in vaccines) will gain a measure of protection, if larger and larger numbers of others are vaccinated.
The vaccinated protecting the unvaccinated.
This is foolish, because what actually protects people against disease is the strength of their immune systems, and that strength has nothing to do with vaccination.
Comment:
Read more about the benefits of a healthy immune system and the importance of '
P
repping your diet
':
The prepping web community has grown in massive proportion to what it was just a decade ago. Blog, prepper and survivalist websites abound and many offer very good ideas that can be applied or adapted to your own situation and needs. But it is rare to see any of these resources address the question of prepping your diet. If prepping your diet confers significant advantages in a disaster/survival situation, then it will have a significant impact on your food storage strategy and what to look out for during an extended disaster.
The question is, does prepping your diet yield enough advantage to suggest changes to your current diet now? And if so, how does this impact your food storage and preparation plan? The answer to the former question, I think, is yes. An answer to the latter is below.
The ketogenic diet is very low in carbohydrate (sugar/starch/grains/etc) and consists primarily of animal fats and restricted amounts of animal protein (meat) such that the majority of the body's caloric needs are met by the fat. By concentrating good fat in your diet and driving carbohydrates very low, your body transitions to a fat-burning metabolism as opposed to a sugar-burning metabolism. The dietary meat protein is restricted since excess protein (beyond that needed for body repair) can be converted to sugar by the liver in a process called glucogenesis - which means that excess meat consumption looks like carbohydrate to the body and interferes with the fat-burning metabolism.
Benefits of the Ketogenic Diet
If part of your preparation plan includes getting in shape and losing some weight, there is no better way than going ketogenic. Once you are transitioned, your body will burn your own fat stores just as easily as it burns dietary fat. Add a little intermittent fasting (12-24 hours without food) and some resistance exercise, and your body will quickly achieve the natural balance right for you, building muscle mass to boot. By transitioning to keto, many folks have been able to dump their prescription medications - a highly desirable action considering availability in a disaster scenario.
If a person has a weak immune system, he will get dangerously sick, and it doesn't matter how many people around him are vaccinated against how many diseases.
So even if one accepts the (false) premise that vaccines are effective and safe, the premise of herd immunity is ludicrous.
Vaccination is, in fact, a cover story used to conceal the fact that the health of populations has everything to do with good nutrition, adequate sanitation, and an absence of toxic elements in the environment.
There are many doctors who know this, but they refuse to speak out, because they know they'll suffer consequences.
Vaccination, as a propaganda strategy, is used to medicalize the population - to assert that good health is fundamentally a medical matter.
It isn't.
If tomorrow, two things happened, they would change the face of health in any industrialized country:
One, millions more people buying healthy food and/or growing their own food, in yards; and in inner cities, growing food in community gardens;

And two, the courts delivering justice in the form of billion-dollar fines and long, long prison sentences to corporate employees (including CEOs) for severe and real pollution.
Note: That justice would eliminate GMO crops which rely on toxic pesticide use.
I'm not spinning rainbows. I'm just pointing out that, with these two changes alone, hospitals and clinics and doctors' offices would empty out, and the medical cartel would finally experience vast comeuppance.
Health and life are not medical functions.
Any science that claims they are is false science, and the people who make those claims are liars or morons or criminals, or some combination of all three.