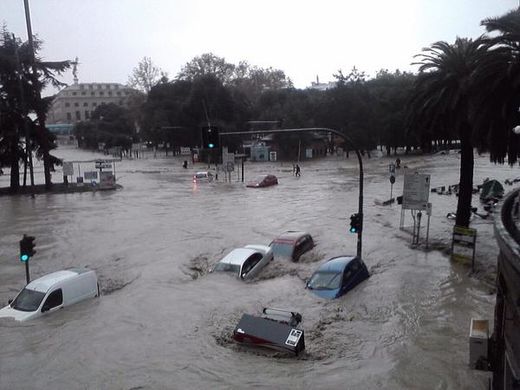 Heavy rainfall sent floodwaters rushing through parts of northern Italy and southern France Thursday into Friday, swamping buildings, trapping vehicles and killing at least one.
Flooding swamped city streets in the northern Italian coastal city of Genoa (population about 600,000) Thursday night. Numerous vehicles were trapped by water up to windshields, then floated, and piled into and on top of each other once the floodwaters subsided.
At least one person was killed in Genoa after being swept away in floodwaters, according to Reuters. Streets were left covered in mud after the water receded.
More than
7 inches of rain fell in Genoa in a three-day period
ending Friday morning, local time. However, Thursday into early Friday, alone, 7-12 inches of rain had fallen in the Apennine Mountains north of the city, helping to push the Bisagno River well out of its banks.
For the third time in just over a week, flash floods swamped parts of southeast France on Thursday and Friday. Particularly hard hit was the Gard department, including the city of Nimes.
Schools were closed and residents were urged to avoid travel due to rising water.
Meteo France issued a red alert for flooding in the Gard through Sunday.
According to Meteo France,
roughly 2 feet (600 millimeters) of rain has fallen in the hills north of the flood-weary city of Montpellier, France since the beginning of September
.
The recent flooding can be blamed on a stagnant weather pattern.
A southward dip in the jet stream, with its attendant upper-level lows has been stuck over Scotland, Ireland, and the eastern Atlantic Ocean off the Iberian Peninsula for several days.
This has allowed ample moisture to flow northward into Spain, Portugal, France and Italy, southern Germany, eastward even into the Baltics and western Russia.
Moisture values in the atmosphere in these areas were two to four standard deviations above the mid-October average.
Instead of cold fronts sweeping east across Europe, this humid atmosphere has remained in place. When a jet stream disturbance helps ignite thunderstorms, they have tended to form in slow-moving, bands with cells training like boxcars of a train over the same area.