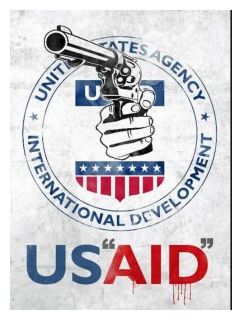 Regular readers of Liberty Blitzkrieg will recall that earlier this year I highlighted how the U.S. government covertly created a "Cuban Twitter" called ZunZuneo in a failed attempt to overthrow the island nation's regime.
The elaborate plot was implemented under the umbrella of the U.S. Agency for International Development (USAID), which is responsible for overseeing billions of dollars in U.S. humanitarian aid.
If you need a refresher, check out the post:
Conspiracy Fact - How the U.S. Government Covertly Invented a "Cuban Twitter" to Create Revolution.
Well we now know that USAID went a lot further than that. Another scheme to unseat the Cuban government has now been revealed. This time with even more immoral foundations, and which could disrupt genuine humanitarian relief efforts the world over.
Incredibly, the U.S. government used an HIV program as a front to foster dissent amongst Cuba's youth.
The HIV-prevention workshop was even referred to as the "perfect excuse to recruit political activists." Despicable.
From the
Washington Post
:
Washington - Fernando Murillo was typical of the young Latin Americans deployed to Cuba by a U.S. agency to work undercover. He had little training in the dangers of clandestine operations - or how to evade one of the world's most sophisticated counter-intelligence services.

Their assignment was to recruit young Cubans to anti-government activism, which they did under the guise of civic programs, including an HIV prevention workshop. Murillo was instructed to check in every 48 hours and was provided with a set of security codes. "I have a headache," for instance, meant the Costa Rican thought the Cubans were watching him and the mission should be suspended.

Over at least two years, the U.S. Agency for International Development - best known for overseeing billions of dollars in U.S. humanitarian aid - sent nearly a dozen neophytes from Venezuela, Costa Rica and Peru to gin up opposition in Cuba. The danger was apparent to USAID, if not to the young operatives: A USAID contractor, American Alan Gross, had just been hauled away to a Cuban jail for smuggling in sensitive technology. He remains there still.

USAID hired Creative Associates International, a Washington-based company, as part of a civil society program against Cuba's communist government. The same company was central to the creation of a "Cuban Twitter" - a messaging network revealed in April by The Associated Press, designed to reach hundreds of thousands of Cubans.

According to internal documents obtained by the AP and interviews in six countries, USAID's young operatives posed as tourists, visited college campuses and used a ruse that could undermine USAID's credibility in critical health work around the world: An HIV-prevention workshop one called the "perfect excuse" to recruit political activists, according to a report by Murillo's group. For all the risks, some travelers were paid as little as $5.41 an hour.

Staging a workshop as a front to subvert a foreign government risked casting suspicion on USAID's legitimate public health mission, including a more than $3 billion annual HIV program that the agency says has helped some 50 million people in nearly 100 countries.

"These programs are in desperate need of adult supervision," said Sen. Jeff Flake, a Republican from Arizona and longtime critic of USAID's Cuba programs. "If you are using an AIDS workshop as a front for something else, that's ... I don't know what to say ... it's just wrong."
Of course, this isn't the first time the U.S. government has used humanitarian missions as fronts to carry out intelligence work. For example, we know for a fact that the CIA set up
a fake vaccination program in Pakistan
in an attempt to gather intelligence on Osama bin Laden. Once the CIA was caught, it "promised to never do it again." I guess spying on Congress wasn't covered under that promise.
So for all the horrific crimes of the CIA at home and abroad, how many intelligence employees are behind bars? Well one in particular comes to mind.
John Kiriakou
, the ex-spook who heroically blew the whistle on CIA torture has been imprisoned. The torturers themselves? Not so much.
Full article
here
.
In Liberty,
Michael Krieger