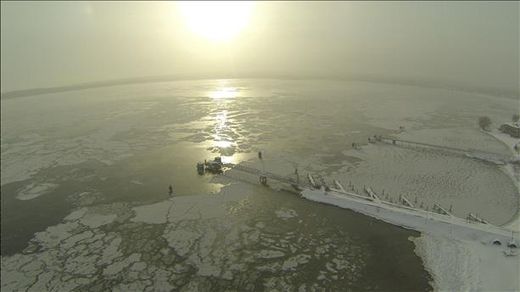 The prolonged stretch of unseasonable cold has set up the greatest ice cover on the Great Lakes this early in the season since 1994.
A review of data shows that ice formation on the Great Lakes continues and with colder than normal temperatures remaining in the short and longer range forecasts, the ice cover will continue to grow.
At this point, the Great Lakes are currently 48% ice covered.
The lake with the highest concentration of ice is Lake Erie, which is no surprise, as it is by a wide margin the shallowest of the Great Lakes so it freezes up much faster. Interestingly, Lake Erie is also because of how shallow it is, the warmest of the lakes in summer. As of this writing,
Lake Erie is 94% ice covered.
Next in line is Lake Huron where all of Georgian Bay, the North Channel and the shoreline areas along Michigan are completely frozen over. There is open water in the center of the lake still,
but Lake Huron is 69% frozen over.
The deepest and largest of the Great Lakes, Lake Superior is next in line. Being further north with much colder air in place, even with its vast size, Lake Superior is now over half covered in ice at
53% coverage
. It's a dramatic shift as just as recently as New Year's Eve, the lake only had 4% coverage of ice. Outside of a small pocket of open water offshore of the Porcupine Mountains in the Western U.P., much of the western half of Lake Superior is frozen. There is however a large area of open water over much of the eastern half of the lake.
Lake Michigan is
33% ice covered
. While the northern part of the lake including the Straits of Mackinac, the Bay of Green Bay, and many shoreline areas down to Chicago are frozen, there is still a lot of open water once you get a bit offshore.
Lake Ontario has the least amount of ice with roughly one quarter or
24%
of the lake ice covered.
While most major bays are iced over including Green Bay, Saginaw Bay, Georgian Bay, Whitefish Bay and Little Traverse Bay, Grand Traverse Bay has still not iced up completely. Viewer pictures and satellite analysis show ice starting to clog up the bay. To technically be considered frozen over, Grand Traverse Bay must freeze up from Traverse City north about six miles to Power Island to be considered a complete freeze over and we are not quite there yet as there is still open water.
The typical peak of ice on the Great Lakes comes in March. Since 1973 the long term average of complete ice cover has been 51.4%. The lowest ice coverage since 1973 came in 2002 when only 9.5% of the lakes were frozen up. 1998 was close behind at only 11.5%. By comparison, the most ice in a winter since 1973 was the bitter cold winter of 1978/1979 when 94.7% of the lakes froze over. The year 1994 also cracked 90% coverage.
Going forward, the increased ice will cut down on lake effect snow for some spots which requires evaporation of lake water to form, and with ice, that cannot happen. Another bonus is once ice forms, there is no longer evaporation of lake water which helps cut down on net water loss of the Great Lakes and can help lake water levels which as you may know, have been below average for some time.