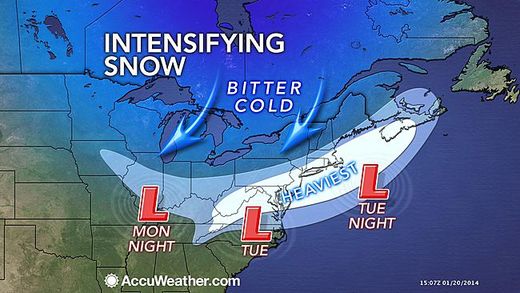 Along the leading edge of
the invading polar blast
, accumulating snow will spread from the Midwest to the East Coast on Tuesday.
The snow will come courtesy of yet another Alberta Clipper set to drop through the Dakotas and Ohio Valley on Monday through Monday night with accumulations on the order of a coating to 2 inches.
The snow will become heavier as it streaks across the mid-Atlantic on Tuesday, then makes a northeastward turn toward southern New England late in the day and evening.
Travel conditions will deteriorate with slippery roads and flight delays expected to unfold even in areas that avoid heavy snow. As colder air invades the storm, winds will increase and cause some blowing and drifting of the snow that has already fallen.
For part of the mid-Atlantic such as the District of Columbia and a large part of Virginia, Delaware, Maryland,
New Jersey
, and southeastern New York state including Long Island, this could unfold to be the biggest snowfall of the season so far.
The storm could rival the storm from early December in parts of southeastern Pennsylvania and Delaware.
According to Winter Weather Expert Brian Wimer, "For Washington, D.C., this could be the biggest storm since Jan. 26, 2011, when about 5 inches of snow fell."
Accumulations of 3 to 6 inches are forecast over a heavily populated part of the mid-Atlantic to southeastern New England.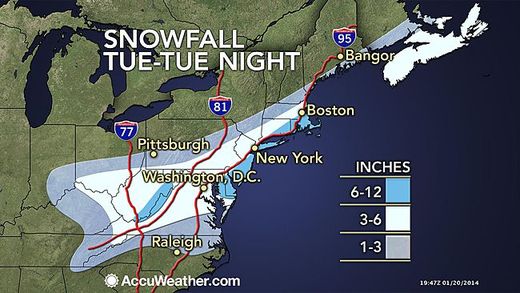 The mountains of Virginia and West Virginia will likely have upwards of 6 inches from this quick-moving storm. Other locations near the mid-Atlantic and southeastern New England coast have a chance at a 6- to 12-inch snowfall.
Senior Meteorologist Bernie Rayno stated, "The heavy snow may expand northward along the coast, as the storm approaches the Atlantic Ocean, taps into more moisture and that moisture is released into the cold air."
Much less snow will fall over northern Pennsylvania, upstate New York and the northwestern part of New England. In these areas cold, dry air will win out.
"Even though the storm is coming during the day Tuesday, Washington, D.C., Baltimore, Roanoke and Richmond, Va., Dover, Del., Philadelphia, New York City, and Atlantic City, N.J., will have enough snow to shovel and plow," Wimer stated.
Temperatures will hold steady or slowly fall in these areas, ignoring the time of day.
Heavy snow is also forecast for southeastern New England, especially over Rhode Island and Cape Cod, Mass.
With a few inches of snow in the forecast, Tuesday's snow could lead to slick roads and even some flight delays.
Motorists planning to travel along I-64, I-66, I-68, I-70, I-81 and I-95 should use caution and prepare for possible slowdowns. Gusty and chilly winds developing on the back side of the clipper will blow the snow around, causing some reduction in visibility for motorists.
A little snow will even drop southward to Greenville, S.C., and Charlotte and Raleigh, N.C., on Tuesday. A coating to an inch of snow is forecast in these areas Tuesday afternoon and evening.
In the wake of the snow, the door will open for cold air to settle across the entire East for midweek. Highs on Wednesday will be held 10 to 20 degrees below normal, even down to Miami.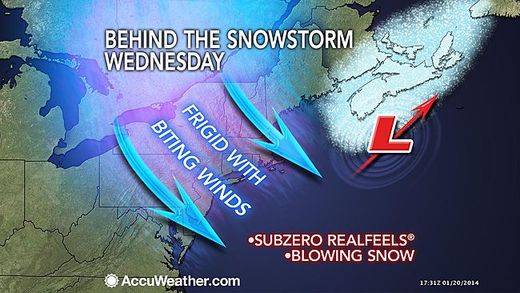 Sunday morning was the coldest so far this winter across most of South Florida. Frost even made a rare appearance in Naples and the western suburbs of the Palm Beach metro area.
Wednesday night may not be quite as cold as this past Sunday morning, but frost could return to the coldest interior locations of the Florida Peninsula.
After the midweek cold snap, another dose of cold air will follow later in the week for the South.
Senior Meteorologist Alex Sosnowski contributed content to this story.