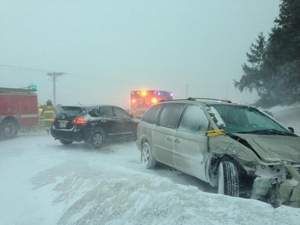 As thousands of drivers and schoolchildren can tell you firsthand, Thursday's surprise snowfall created a near-standstill for Des Moines-area travel for hours.
At least 25 cars were involved in a pileup on Interstate Highway 80 near Waukee during the evening rush hour. Another 20-plus cars jammed U.S. Highway 169 between Adel and De Soto. Some people were without power for hours because roads laden with accidents kept crews from reaching the outage area.
And in Des Moines, at least one school bus was still taking students home after 9 p.m. because of poor road conditions.
"Those buses began their routes just as the worst of the storm was hitting the metro by surprise," district spokesman Phil Roeder said.
A bus that left Greenwood Elementary School at 4:30 p.m. was still en route to student houses at 9 p.m. Roeder said that he wasn't sure how long the route typically takes, but that students had always been home in time for dinner.
Another bus that left Windsor Elementary School at 4:30 p.m. didn't finish its route until 8:30.
Roeder said bus drivers remain in touch with dispatchers while on the road. Dispatchers then contact parents. Roeder said not every parent was contacted because of the unexpected conditions.
Meteorologists had predicted powerful winds and light snow - but not the blinding snow, which fell at almost the perfect place and time for causing maximum mayhem.
The metro area got over 3 inches of snow, which combined with wind gusts nearing 50 mph caused whiteout conditions. The snow was localized, with most places outside southwestern Polk County getting 1.5 inches or less.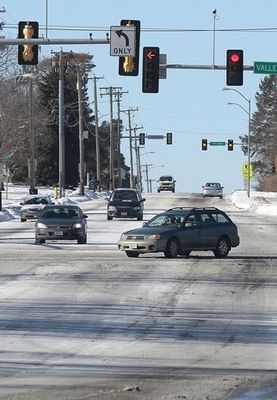 Sgt. Scott Bright of the Iowa State Patrol said eastbound traffic was shut down on I-80 near Waukee most of Thursday evening because of the giant collision there.
Four individuals involved were treated at Mercy Medical Center locations, said Gregg Lagan, spokesman for the hospital.
At least 11 people involved in motor vehicle accidents Thursday evening were treated at Mercy. An additional person was treated after falling on a slick sidewalk.
"Nothing that has been severe in nature," Lagan said of the patients' injuries. "Enough to be seen (by a doctor), but nothing that has been a severe injury."
Traffic was also rerouted on Interstate Highway 35 at Cumming after a semitrailer truck jackknifed and flipped sideways, blocking the road.
"There's collisions all over the place," Bright said.
The Iowa Department of Transportation had 175 snowplow trucks deployed throughout the state Thursday, said John Hart with the DOT's maintenance office.
Snow ceased Thursday evening. Windy conditions will persist today with gusts exceeding 30 mph, causing blowing snow, the National Weather Service said. High temperatures will be in the teens and low 20s throughout most of the state. Wind chills could be as low as minus 15 degrees.