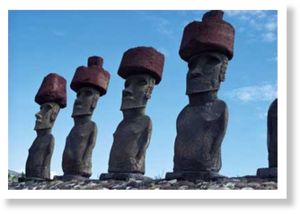 The riddle of why scores of the statues on Easter Island are wearing red hats may have been solved by a team of British researchers.
The presence of the large disks of red stone has been one of the great mysteries of the island, situated 2,500 miles off the coast of Chile, since European archeologists began studying it a century ago.
Dr Colin Richards from the University of Manchester and Dr Sue Hamilton from University College London managed to reconstruct the journey taken by the sculptured rocks after following an ancient road which leads to a "sacred" quarry where the material was mined.
Dr Richards told
The Independent
: "It is clear that the quarry had a sacred context as well as an industrial one. The Polynesians saw the landscape as a living thing and after they carved the rock the spirits entered the statues."
The two British experts believe the first hats appeared between 1200 and 1300, which coincides with an important increase in the size of the statues on this remote island.
They weigh several tons and were carved from a crater full of red scoria, a volcanic pumice whose colour symbolises high birth and status.
While the meaning of these statues has not been conclusively established, Dr Hamilton thinks the hats could represent a plait or top knot worn by the elite chieftains who were fighting for power and pride. To materialise the struggle, they built ever-taller statues called moai created in memory of their ancestors and the hats could even have been added to existing structures to increase their height.
"Chieftain society was highly competitive and it has been suggested that they were competing so much that they over-ran their resources," said Dr Hamilton .