This morning, Jan. 23rd around 0359 UT, big sunspot 1402 erupted, producing a long-duration M9-class solar flare. The explosion's
M9-ranking
puts it on the threshold of being an X-flare, the most powerful kind. NASA's Solar Dynamics Observatory captured the flare's extreme ultraviolet flash: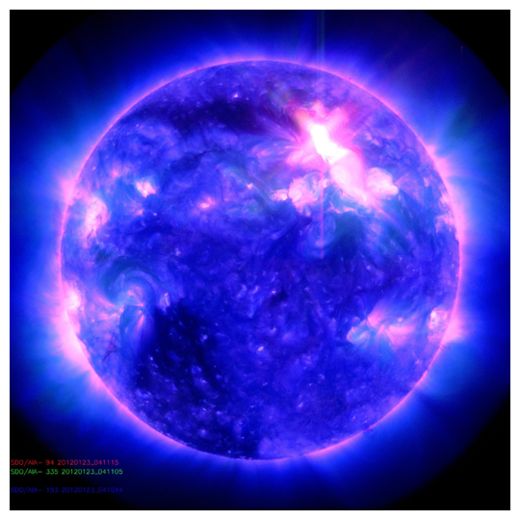 The Solar and Heliosphere Observatory (SOHO) and the STEREO-Behind spacecraft have both detected a CME
rapidly emerging
from the blast site. Analysts at the Goddard Space Weather Lab estimate a velocity of 2200 km. There is little doubt that the cloud is heading in the general direction of Earth. A preliminary inspection of SOHO/STEREO imagery suggests that the CME will deliver a strong glancing blow to Earth's magnetic field on Jan. 24-25 as it sails mostly north of our planet. Stay tuned for updates.