A section of wall below Stirling Castle that collapsed last week is now the subject of an archaeological investigation. The wall was on a steep bank above the Butt Well and had been built to retain garden terraces created in the 1490s. Archaeologists are using the collapse as an opportunity to investigate fragments of one of Scotland's oldest gardens, made for James IV.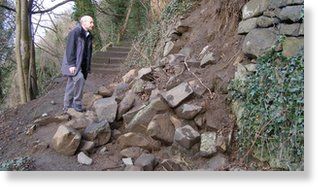 Members of Stirling Local History Society (SLHS) are leading the work. The society had organised a survey of the adjacent King's Knot last summer - and said it was already planning studies of the wider landscape around the castle. Archaeologist Stephen Digney, who co-ordinated the work at the Knot, said: "The terraces link the castle to the Knot garden below. "This fortuitous landslip presents a further step towards wider studies of the castle landscapes, which are of European importance."
'Fascinating site'
An initial survey of the collapsed wall using GPS has been carried out by AOC Archaeology, and SLHS hope a more detailed survey and a full dig could take place in the future. The society's chairman, John Harrison, said: "This collapse could so easily have been all loss. But soon we should know more about this important and fascinating site and be in a position to take the studies forward.
"It is very heartening that AOC and the council departments have listened and worked together. "Preserving our heritage is not just about the past but an investment in the future of Stirling and of Scotland." Stirling Council archaeologist Murray Cook said the walls represented an "incredible survival" when Stirling was at the heart of renaissance design.