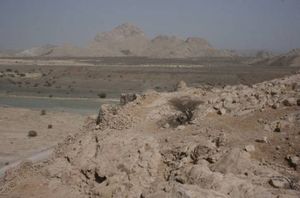 An area of 600sqkm has been covered and many new sites have been found, expert says
Muscat: At least 5,000 year old burial sites have been discovered by archaeologists during the two-year-long Sohar Heritage Project, according to a press release from the Ministry of Heritage and Culture on Sunday.
The ministry-run project, which has carried out major survey within Sohar town and surrounding areas, is mainly funded by the industrial sector in the this port town.
"An area of 600sqkm has been covered and many new sites have been found that will shed light on Oman and its glorious past," informs to Biubwa Ali Al Sabri, Director of Excavation and Archaeological Sites at the Ministry of Heritage and Culture.
She added that many of the sites found in Sohar are burial sites belonging to the Wadi Souq period (1900- 1100 BC). "Also older sites that are as old as 5000 years have been found and a distinctive pattern can be seen within the area that stretches from Liwa to Gyal as Shabol," pointed out the Omani archaeology expert.
"Many Islamic sites have also been found that have the potential to shed light of how Sohar has come to develop. Also other surveys have been conducted over the years in the area but not in this scale," Al Sabri added.
"This will also be something that can be used in other projects within and outside the Ministry of Heritage and Culture as a base for future development of Omani heritage," said Swedish Project manager Gunnar Ohrnell.
"We have now covered a large area where we have found such a large number of sites that cover different time periods. This will throw light on the heritage in the area, and also form a base for future research on the many aspects of the cultures in the past."
Sohar Heritage Project, in its final year of work, is now involved in a survey of the mining sites in the Sohar town.
"Mining played an important role during the prehistory of Oman in general and especially to Sohar where the copper trade was flourishing," pointed out the Omani archaeologist.
She also pointed out that earlier excavations in Sohar had unearthed proofs of Oman's connections both with India, China and the city states of Mesopotamia.
"We also know through text from the old archives in Mesopotamia that Oman, or Magan as it was referred to in ancient times, played an important role as an exporter," Al Sabri added.
"With this, more facts can be retrieved from the excavated material," believes Ohrenell.
"By examining the bones we are not only able to determine health issues, but also sex and age of an individual," added the Swedish archaeologist, who also trained Omani archaeologist during the project.
"This is very valuable when within a larger sample from a burial site pattern can be seen. This new knowledge can also be studied in combined with other studies of for example artefact studies to retrieve new knowledge. This type of osteological analysis is the only one to unveil the medical and social aspects and this also have the potential to examine older material with new questions in mind," added Ohrnell.