A Warwickshire man has described the moment builders found human bones under his patio. Stephen and Nicky West were having their home redeveloped when one of the builders unearthed the remains. Mr West said: "There was a tap on the door and the builder said 'Stephen, I think there's something you need to see'.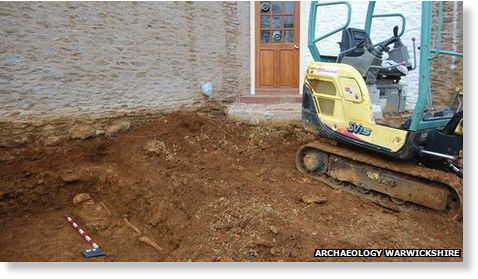 "He had a skull in his hand and I thought 'oh my goodness'." The couple have lived at their house in Ratley, a village in south Warwickshire, for nearly seven years. The village is near to Edgehill - site of the the battle of Edgehill, where the King's army clashed with Parliamentarians in 1642 at the start of the English Civil War.
Mr West said at first he thought the bodies were probably casualties of the battle. He said: "It was funny because when we started the work on the house people said 'you'll probably find bones in the garden from the civil war' but they predated that by a long way." In fact the bones predated the civil war by at least 800 years. Mr and Mrs West informed Warwickshire County Council's archaeologists.
Archaeology Warwickshire's manager Stuart Palmer visited the site and determined they had been buried there long ago and were not the victims of any recent foul play. Mr Palmer said the group did not normally undertake scientific research on all finds because the service's funds were limited. But Mr and Mrs West were so intrigued by the discovery they commissioned Archaeology Warwickshire to test the bones.
The bones were discovered last year but the service has only recently released the test results. The archaeologists identified the remains of at least four bodies which included two adult females, a young male and a juvenile aged between 10 and 12. Radiocarbon dates from two of the skeletons show that they died around 650-820 AD in what is known as the middle Saxon period.
'Extreme hardship'
England at this time was divided into a number of kingdoms and Ratley may have been in a frontier war zone between the Saxon kingdom of the Hwicce and the eventually dominant Anglian kingdom of Mercia.
Mr Palmer said: "The discovery of this previously unsuspected burial ground is an extremely rare and important addition to what has previously been an archaeologically invisible period of Warwickshire's history.
"Detailed analysis of the skeletons has revealed an insight into the health of the middle Saxon population who clearly suffered periods of malnourishment and were subject to a wide range of infections indicative of lives of extreme hardship and often near-constant pain."
He said it was quite rare to find bones of this date anywhere in the county let alone in someone's garden. He added: "The bones are almost certainly part of a much larger cemetery." The bones, which were removed for testing, will now be stored by the service until it is decided where they will be kept permanently.
Mr West said they were not bothered about living on top of an ancient burial ground. He said: "It's spine tingling to think there's so much history and we're sleeping on it. "It's one of those odd things, it's quite comforting in some ways, as long as they don't disturb our sleep." The archaeological service is part of Warwickshire County Council.
Chris Williams, county councillor for Kineton division where the find was made, said: "It's fascinating to know what lies beneath our feet and homes in this part of Warwickshire. "It makes you wonder what else could be out there? "It's encouraging to know that here in Warwickshire we have such a team of experts to deal with these discoveries."