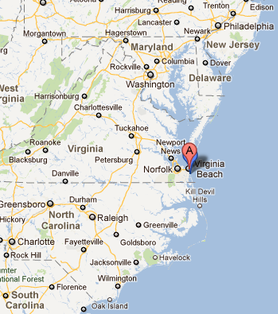 Boom, it happened again.
Residents at the Oceanfront reported hearing a strange explosion around 9 p.m. Wednesday that rattled windows, shook foundations and startled babies out of their sleep.
It was the second time this year coastal residents have flooded emergency lines and online social networking sites after hearing and feeling ... well, something.
As with a previous mystery disturbance in May, nobody seems to know what happened, yet theories abound.
It wasn't another earthquake like the one that shook the East Coast in August, according to geologists. A NASA scientist said it could have been caused by
a meteor crashing through the atmosphere
, but there's no way of knowing without photographic proof. And military officials said don't blame them.
Oceana Naval Air Station spokeswoman Kelly Sterling felt and heard the boom at her home in Virginia Beach but said in an email it had nothing to do with jet noise or off-shore military exercises.
Beach middle school students made headlines last spring when they theorized the boom felt in May was a curious and little-understood phenomenon known as Seneca Guns. But the term was invented centuries ago to describe mysterious coastal sounds and offers no actual explanation.
On Facebook, several Beach residents wondered if the disturbance had anything to do with alien invaders. Others blamed Congress or chalked it up to a top-secret government operation.
"There's no easy way of knowing," said NASA scientist Joe Zawodny, who heard the boom at his home in Poquoson. "There are a million things you could blame this on."