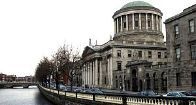 Early Christian remains have been uncovered by contractors working on the largest energy project in the country.
The medieval burial ground was discovered on farmland in Rush, north Dublin, in June as EirGrid laid piping for a high voltage direct current (HVDC) underground power line.
Radiocarbon tests at Queens University, Belfast, have revealed the site dates back to the seventh century, from between 617 to 675 AD.
Archaeologists would not speculate on the number of remains on the site but confirmed they were pre-Viking and from the conversion period of Christianity.
John Fitzgerald, project director with Eirgrid, said: "It is an interesting historical discovery for the project, local archaeologists and the local community.
"We are working with Fingal County Council and the National Monuments Service, and will provide more detailed information to the public about the archaeological site as soon as we know more."
The current phase of defining the extent and content of the find is expected to be finished between the middle and end of October.
Investigations are continuing into the use of the site for burial, the possible existence of other features which may be associated with it, or proof of activity which pre-date or post-date the era.
Fingal County Council said the site will add greatly to its knowledge of the area's history.
Heritage officer Gerry Clabby said: "This discovery at Rush appears to be from the early Christian period.
"Every discovery from this period adds to our knowledge and understanding of what life was like over 1,400 years ago in Fingal.
"There have been a number of similar discoveries of previously unknown archaeological sites in Fingal in recent years."
EirGrid, a state-owned company, has been mandated to develop the interconnector by 2012.
The €600m east-west interconnector will link Ireland's and Britain's national grid with an underwater pipeline from Wales to Rush.