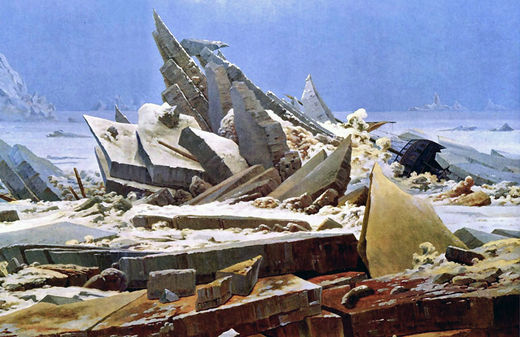 A musket and other artifacts from HMS
Investigator
, the ship abandoned in the Canadian Arctic in 1854 during the hunt for Sir John Franklin's lost expedition, have been recovered by divers. The ship is credited with discovering the Northwest Passage.
Shoes, a musket, a copper sheet, and parts of the ship's rigging were among the items brought up over nine days this July from the wreck discovered last summer in Mercy Bay, off Banks Island in the Northwest Territories, in Canada's North. Divers were lucky enough to find the usually ice-covered bay largely open water during the expedition.
Archeologists photographed and mapped the ship using sonar and video to determine its state of preservation.
"Although the hull is basically survived up to the main deck, the main deck is a litter of timbers," Bernier said at a news conference.
The ship continues to be damaged by ice, he said, but there was a lot of sediment within the interior of the ship.
"This is basically the best conditions to preserve artifacts," he added.
The buried artifacts were left untouched, but about 16 lying outside and on the deck were recovered because they were exposed, and researchers feared they could become damaged before an expedition could return to the site.
Copper Sheeting Holds Key
Bernier said the most exciting was the copper sheeting, which protected the ship's hull from marine organisms. That's because the copper can be chemically tested and compared to copper found at other sites to figure out whether those pieces originally came from HMS
Investigator
, or compared to the copper on other ships.
He added that some of the items, such as the shoes, are of interest because they appear to include waterproofing or other modifications for use in the Arctic.
Researchers also conducted land surveys as part of the expedition, collecting an inscribed wooden barrel top, an arrow and a tin can near a cache linked to Robert McClure, the captain of HMS
Investigator
.
They identified four new archeological sites, including a small aboriginal camp and rock cairn.
At one point, the researchers responded to a search and rescue call that brought them near a previously known archeological site believed to have been used as an observatory by Franklin's crew between 1846 to 1848. There, they checked up on the site and collected artifacts that included bottle glass, copper nails, twine or rope, tent canvas, and pieces of tobacco smoking pipes.
Franklin's Search to Continue: Kent
However, as previously announced, they did not manage to locate HMS
Erebus
and HMS
Terror
, Franklin's long-lost ships, in the third year of a three-year hunt for them.
Environment Minister Peter Kent gave his assurances that government-funded expeditions will continue to visit the Arctic each summer to continue the search and map the Arctic waters that are becoming increasingly ice-free and navigable.
"Certainly, I can assure you that this will be an ongoing project," he said.
Kent noted that while HMS
Investigator
was trapped in a bay, where it stayed put, HMS
Erebus
and HMS
Terror
may have drifted very long distances to two very different sites, based on Inuit oral history indicating their locations.
Bernier said the area that needs to be searched is enormous, but that large swaths are ruled out each year.
"We are getting closer because we have covered more territory," he said.
HMS
Erebus
and HMS
Terror
are considered by Parks Canada to be National Historic Sites, Bernier added.
"They are the only National Historic Sites for which we don't know the location," he said, adding that the department has the mandate and the responsibility to find them.
Source: CBC News