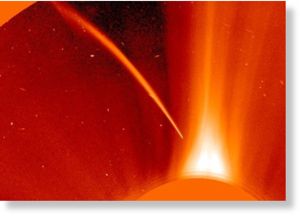 He spends most of his day at office and commuting to and from Mumbai in crowded suburban trains but accountant Shishir Deshmukh still finds time to look at the stars and pursue his passion for astronomy.
And he has just discovered his sixth comet in just nine months
, the first by an Indian.
His latest discovery was a Kreutz Group comet Thursday evening.
"I feel very thrilled by my discoveries, the first by an Indian. It gives great pleasure. Although I am an amateur astronomer, I have made a small contribution to the world of astronomy," an excited Deshmukh, who works as an assistant accounts manager with a leading realty group, told IANS.
The Kreutz Group of comets is named after a German astronomer, Heinrich Kreutz, who discovered that these types of comets - which travel around the sun and consist of a solid frozen nucleus part and a long luminous tail - have their orbits very close to the sun.
"These comets are generally very fragile, barely a few metres long and keep disintegrating throughout their orbit," explained Deshmukh, a commerce graduate from the University of Mumbai with an M.Phil in information science.
These comets are much smaller than the better known large comets like Halley's Comet.
"But they (the small ones) are very useful to the study of the dynamics of orbits of comets, their disintegration process and perturbations from giant planets," he added.
"
Actually, what we are seeing now in the form of Kreutz Comets is the debris or left-overs of very large comets which come in the vicinity of our solar system once in a few centuries.
"From the orbits of some of the Kreutz Comets, it is estimated that one such huge comet was seen in 1106, then in 1882 and last in 1965," Deshmukh, 37, explained.
Besides, some short period comets are also observed using Solar & Heliospheric Observatory (SOHO) data, which help scientists understand their orbital dynamics and rate of erosion each time they visit our solar vicinity.
On the basis of their observations, astronomers can estimate their expected time of return - and the possible risks to mankind, he said.
Detailing his achievement, Deshmukh said it involves a furiously competitive study of images of the sun sent by SOHO, which is a space observatory between the sun and earth, some 1.5 million km away from our planet.
"It beams one image every 12 minutes which is uploaded on its official website 24x7 and picked up by astronomers worldwide. I also studied them, measured the positions of any suspicious objects, picked out my claims and submitted them for confirmation, including the one yesterday (Thursday)," he said.
"My latest discovery - yesterday evening - has also been acknowledged as genuine and the official confirmation is expected soon," Deshmukh said.
The plaudits have been many.
Deshmukh was felicitated for his achievement by former president A.P.J. Abdul Kalam in Dombivali last March.
In January this year, Deshmukh, co-author of a book,
Astronomy of Eclipses
, was commended and felicitated by eminent nuclear scientist Anil Kakodkar for becoming the first Indian amateur astronomer to get international recognition as a discoverer of SOHO comet.
He will speak on "Comet Hunting With SOHO" at a major felicitation organised by the Bombay Amateur Astronomers Association Saturday.
In the past 15 years or so, a total of 2,122 Kreutz Group of comets have been discovered by professional and amateur astronomers worldwide.
German astronomer Rainer Kracht holds a tally of 225 discoveries.
Other astronomers have made smaller individual discoveries, including Deshmukh, of course.
Prior to Deshmukh, late Indian astronomer M.K.V. Bappu of Andhra Pradesh along with two international scientists, discovered a conventional comet which was later named after them as 'Bappu-Bok-Newkirk Comet' in 1949.