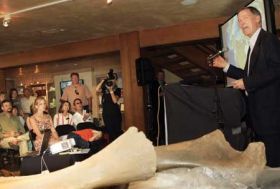 Theories abound about how the scores of prehistoric animals unearthed at Ziegler Reservoir - including the most mastodons ever found in one site - all met their fates in the same place.
Gov. John Hickenlooper has his own: "I think it was the huckleberries, a rare type," he said, drawing laughs during a press conference Thursday in Snowmass Village.
The governor and Dr. Kirk Johnson of the Denver Museum of Nature & Science addressed reporters and members of partner organizations as part of the wrap-up of a dig unprecedented in state history. After nearly 70 days of digging, the museum announced what Johnson, its chief curator, called a "staggering" total of 4,826 bones.
"It is a true treasure trove and is one of the finest mastodon sites in the world," Johnson said. "We have crushed Boney Springs," a site in Missouri where 31 individual mastodons were found.
The Ziegler fossils likely hold the remains of up to 40 different American mastodons, and some 80 percent of all the fossils recovered are mastodon-related.
"It's a big deal for Colorado," Hickenlooper said.
He praised those involved in preserving the area, from construction workers and scientists to town officials. Hickenlooper said other fossil sites have held tremendous potential but that "no one has been willing to wait."
"These kinds of events and projects put added stress on the entire infrastructure of a community," the governor said.
The fossils, first uncovered by Gould Construction employee Jesse Steele on Oct. 14, also allow valley students incredible scientific access to stimulate their minds. Hickenlooper sarcastically pointed out the excitement of his son Timmy, who was sprawled out on a chair in the front row.
But he noted that a friend from London had heard about the discoveries, meaning "somewhere in Europe, word is getting out about this small town."
Johnson said it helps having a governor who is also a geologist - Hickenlooper has a master's degree in geology and apparently wasn't thrilled at having to leave the dig site. Small wonder, since a member of a dig crew showed the governor yet another mastodon femur found Thursday. That's indicative of a level of excitement from scientists and staff that has only grown. As the final frenzy slowly abates, some crew members told Johnson that they had been waiting all of their lives for something like Ziegler.
Also Thursday, a crane lifted 10,000 pounds of plaster of Paris and burlap encasing a Columbian mammoth and placed it on a Denver-bound flat-bed semi-truck. Most digging has now stopped, though a handful of museum staff will be alongside construction crews as they finish installing a dam and ready the reservoir to again hold some of the town's water supply.
One young person, using a suggestion box at the Ice Age Discovery Center where the press conference was held, made her feelings known about the plan.
The note, with spelling unchanged, read, "I think they should keep doing the dig because scince is more important than resivars." And that line of thought is likely common.
But Johnson said re-covering the remaining fossils with water is the best scenario, as doing so will preserve the bones by locking out oxygen, leaving them for future scientists who, if they feel it necessary, can request the reservoir be drained again.
"The worst possible outcome would be to leave an open hole," he said. "When we explain our reasoning, I think most people understand."
Some of those future researchers could come from local schools. Johnson said the museum's educational efforts reached some 6,000 students in the valley, and 15 local educators were among the volunteer staff; students in 12 other states were able to see and speak with scientists digging at Ziegler.
Johnson said there are a few other aspects that stand out: the amazing insight that the fossils and core samples are expected to give to ice age climate change; the ability to reconstruct ancient high-elevation ecosystems; and, not least, the complete lack of acrimony between all of the entities involved.
"What they gave us is a world-class fossil site," he said. "It's way bigger than Snowmass Village and Colorado."