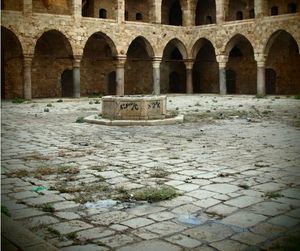 Archaeologists have unearthed an old city of Crusaders, which had been hidden for centuries under the port city of Acre along the Mediterranean Sea in Israel.
The newly excavated city adds to Israel's many heritage sites. It is believed to be last inhabited by residents in 1291, the year the crusader state power fell to a Muslim army from Egypt.
The existing Acre city, which was reduced to ruins by the end of seventeenth century, was built by the Ottoman Turks around 1750.
Preserving the newly discovered ruins of the older town is yet to be named and lay preserved under Acre's crust for hundreds of years.
"It's like Pompeii of Roman times - it's a complete city. It is one of the most exciting sites in the world of archaeology," Eliezer Stern, the Israeli archaeologist in charge of Acre, told the Associated Press.
The site will open to public later this year, he said.
Archaeologists disclosed some of the features of the new town that includes an arched passageway underground, graffiti of medieval times on walls, a cobblestone street and a row of shops that probably sold souvenirs for pilgrims, ampoules for holy water, clay figurines and more.
Acre was ruled by rules of many religions. The city houses fortresses, castles, churches and mosques that are evidences of its diverse history. Buildings from the Hellenistic-Roman period and the Crusader and Ottoman periods, Turkish baths, walled port and a Bahai temple suggest that the UNESCO World Heritage Site has strong Holy implications.