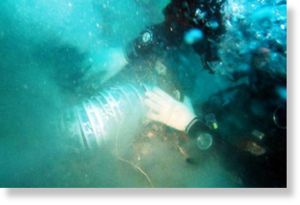 A $70-million haul of Ming Dynasty porcelain has been found in a 16th-century shipwreck off the Indonesian island of Java, a Portugal-based salvage company said Friday.
Arqueonautas Worldwide (AWW) and its Indonesia-based partner RM Discovery Inc. said an "archaeological reconnaissance operation" had confirmed the discovery of the "biggest shipwreck cargo of Ming porcelain ever found".
"The Chinese merchant ship from the time of the Wanli Emperor sank around 1580 in over 50 metres (600 feet) depth approximately 150 kilometres (93 miles) off the Indonesian coast," the company said in a statement.
Fishermen found the wreck in mid-2009 and the Indonesian government contracted AWW and RM Discovery to carry out the delicate task of recovering its historically significant cargo, the company said.
AWW CEO Nikolaus Sandizell said salvage operations on the "Wanli" wreck would begin in the coming months.
"This unusually large ship for the late 16th century makes this project a unique challenge for our team from a cultural, historical and commercial point of view," he said.
The wreck contained an estimated 700,000 pieces of porcelain, he said.
"According to experts the value of the cargo could therefore be around $70 million," he added.
RM Discovery director Oliver Herrmann said salvage operations would begin in the coming months.
"For us it is crucial to carry out this operation in a scientifically sound manner whilst being economically viable," he said.
The wreck is under almost constant surveillance to prevent looting, the salvors said.
The AWW website says the company has discovered more than 300 shipwrecks in Africa, Asia and South America.