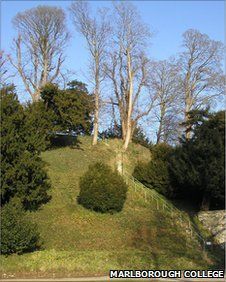 A Wiltshire mound where the legendary wizard Merlin was purported to be buried has been found to date back to 2400 BC.
Radiocarbon dating tests were carried out on charcoal samples taken from Marlborough Mound, which lies in Marlborough College's grounds.
The 19m (62ft) high mound had previously mystified historians. Some believed it dated back to about 600 AD.
English Heritage said: "This is a very exciting time for British prehistory."
Dig leader Jim Leary said: "This is an astonishing discovery.
"The Marlborough Mound has been one of the biggest mysteries in the Wessex landscape.
"For centuries people have wondered whether it is Silbury's little sister; and now we have an answer. "
'Dramatic history'
Silbury Hill, an artificial man-made mound about five miles away, also dates back to 2,400 BC.
Marlborough Mound was reused as a castle and became an important fortress for the Norman and Plantagenet kings.
It was also the scene for major political events, such as the general oath of allegiance sworn to King John in 1209.
Nicholas Sampson, Master of Marlborough College, said: "We are thrilled at this discovery, which confirms the long and dramatic history of this beautiful site and offers opportunity for tremendous educational enrichment."
The work is part of a major conservation programme being undertaken by the Marlborough Mound Trust.