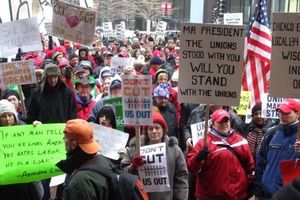 Thousands of Illinois public service workers on Saturday rallied in downtown Chicago to support the union employees in Wisconsin and other states where the government have proposed limiting workers' collective bargaining rights.
The demonstrators, including teachers, painters, carpenters and other public workers, carried signs "We are one," showing support to movements organized by labor unions.
The rally is the latest of a wave of protests against the state government's proposal to force state employees to contribute more to their health-care and pension costs and give up their collective bargaining rights.
As politicians in Wisconsin, Ohio, Indiana, Michigan and other states are considering theses benefit-cutting measures, union leaders across the region and country have organized multiple rallies in protest.
Source: Xinhua