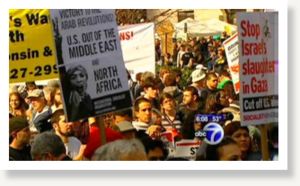 New York (WABC) -- Two rallies took place in Manhattan on Saturday; one protesting war, the other supporting unions.
A boisterous, anti-war rally in Manhattan on Saturday with activists demanding an end to U.S. involved conflicts.
Hundreds of demonstrators took part in the Union Square rally on Saturday afternoon.
Protestors said if the U.S. would pull out of the wars it's involved in, the government wouldn't need to cut spending on programs such as Medicare, Head Start and Medicaid.
Demonstrators claim the money spent on U.S. airstrikes in Libya alone could have bridged the financial gap for struggling domestic programs.
Further uptown in Times Square, more protestors took to the streets.
Thousands of pro-labor demonstrators chanted "We are one, we are one".
Saturday's rally, organized by the New York state AFL-CIO, was meant to show solidarity among working men and women.
The marchers say they are standing strong against what they claim to be a war against organized labor in this country.