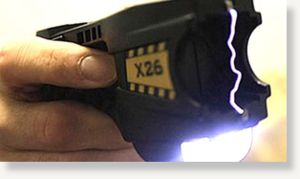 The RCMP has confirmed that one of its officers used a Taser to subdue an 11-year-old boy after a stabbing in Prince George, B.C.
Police used the electrical stun weapon after responding to a 911 call about an incident at a home in the city at about 5:30 p.m. PT Thursday.
After officers arrived at the residence, "police confirmed that a 37-year-old male had been allegedly stabbed by an 11-year-old male," RCMP Supt. Brenda Butterworth-Carr, commander of the Prince George detachment, said in a statement Friday.
Butterworth-Carr said officers located the young suspect at a nearby property.
"Efforts were made to get the individual out of the house, and when he emerged from the home, a Conducted Energy Weapon was deployed by a member," Butterworth-Carr said.
The police statement provided no details about what led police to use the stun gun.
She said the boy was taken into custody and transported to hospital for assessment.
The victim of the stabbing remains in hospital in good condition with non-life threatening injuries, she said.
Butterworth-Carr did not refer to the condition of the boy or say whether he was still in police custody.
An independent investigation into the incident will be conducted by West Vancouver Police Department, she said.