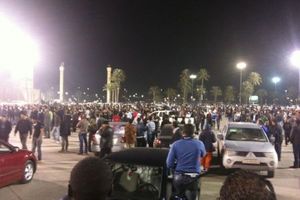 Nearly 200 Libyan demonstrators are feared dead following government crackdown on protesters in five days of pro-democracy revolt against the 42-year rule of Libya's Moammar Gaddafi.
UK's
Independent
newspaper reported Sunday that government crushing of the protests in the eastern Libyan port city of Benghazi has left up to 200 people dead.
Earlier reports put the death toll from the anti-government uprising at 100 people.
Libya's crackdown on massive demonstrations turned bloodier as government forces opened fire on protesters in Benghazi on Saturday, leaving at least 15 people dead.
Medics said snipers opened fire on thousands of people on Saturday as protesters gathered to mourn the 35 protesters killed by security forces on Friday, Associated Press reported.
In addition to the 15 killed, scores more were reported wounded during the Saturday violence. Moreover, many of the victims in the incident are reported to have been hit in the head.
Some reports also indicate that "foreign mercenaries" were seen among government forces confronting protesters.
Meanwhile, British Foreign Secretary William Hague called reports on the use of snipers and heavy weapons against demonstrators in Libya "clearly unacceptable and horrifying" and criticized restrictions imposed on the media.
The new fatalities bring the overall estimated death toll of unprecedented pro-democracy protests against the 42-year rule of Libya's Moammar Gaddafi to nearly 100, after only five days of massive demonstrations.
Before the events on Saturday, Human Rights Watch estimated that at least 84 people have been killed.
The rights group Amnesty International has also urged the Libyan government to stop its crackdown on peaceful demonstrations.
According to latest reports, police have disappeared from streets of Benghazi and returned to their main headquarters, a military base that also serves as a weapons depot.
The government has not yet released any casualty figures or provided any official comment on the bloody violence.
Residents in Benghazi reported that there was no electricity in parts of the city and that tanks were stationed outside the city's main courthouse. Benghazi's airport is also reported closed.
The latest mass protests are the biggest popular uprising against the Libyan dictator during his long reign.
Gaddafi came to power 41 years ago in a bloodless military coup. Speculations are rife that he has held emergency talks with the country's top officials amid growing concerns that the ongoing protests could presage similar revolutions in Egypt and Tunisia.