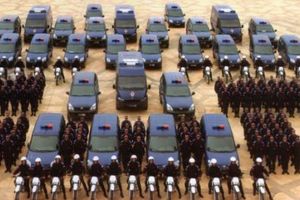 Moroccan security forces have been on high alert in the capital Rabat and other main cities of the country ahead of a planned nationwide demonstration to demand broad political reforms.
Thousands of Moroccans are expected to join nationwide protests Sunday to demand that King Mohammed hand some of his powers to a newly elected government and make the justice system more independent, DPA reported.
A coalition of Moroccan youth groups called "The February 20 Movement" has called for mass peaceful protests in cities across Morocco on Sunday to demand the amendment of the constitution, dissolution of the government and parliament, recognition of the Amazigh (Berber) language as an official language and the release of political prisoners, among other things.
The February 20 movement also wants to force the 47-year-old monarch to dismiss the current government and dissolve parliament.
.