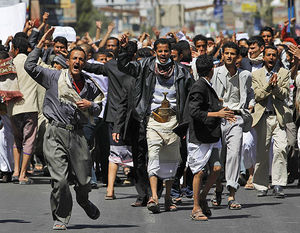 The unrest shaking the Middle East and North Africa showed no signs of calming Friday as protesters determined to overthrow governments and remake a region plagued by corruption, poverty and decades of limited political freedoms continued to confront security forces and regime loyalists.
Uprisings that only months ago would have been unthinkable have engulfed a region desperate to replicate the toppling of leaders in Tunisia and Egypt. So far, the breadth of demonstrations in Yemen, Libya and Jordan have not reached a tipping point.
As in Bahrain, many leaders in the region are relying on the police and military, pro-government propaganda and intimidation to beat back protesters.
But the death toll and the frustrations are growing.
Protests against the 41-year rule of Libyan strongman Moammar Kadafi continued in Benghazi on Friday with opposition forces and government troops clashing violently. The tumult in Libya's second-largest city has taken as many as 35 lives there, according to human rights groups, news agencies and hospital officials.
Kadafi's support in Benghazi is weaker than elsewhere, and a mostly youthful crowd of protesters fought for control of the eastern coastal city a day after deadly confrontations in the capital, Tripoli, Al Jazeera news channel reported.
Kadafi foes, joined by defecting police, were also fighting security forces for control of Beida, northeast of Benghazi, according to exile groups.
Libyan state television reported that pro-government demonstrators were out in force in Tripoli and showed images of men chanting in favor of Kadafi. The longtime leader appeared briefly in Tripoli's Green Square but didn't speak to the people chanting his praises.
Human Rights Watch said Friday that at least 84 people have been killed in protests nationwide in the last 72 hours. Confirmation of any developments out of Libya is difficult because of harsh restraints placed on independent news media.
In Yemen, at least four demonstrators died and several dozen were injured when large anti-government rallies in cities across the country turned violent for the eighth consecutive day.
In the city of Taizz, south of the Yemeni capital, Sana, one person was killed and many others injured when a grenade was lobbed into a crowd of 10,000 protesters in the central square. Officials in Sana denied the government had anything to do with the attack. Local news reports also said three people were killed in Aden.
In Sana, after Friday prayers, about 2,000 anti-government protesters carrying megaphones and armed with rocks clashed with hundreds of government supporters wielding homemade bats. The melee lasted for more than an hour, spreading into side streets and back alleys as men swung at each other with sticks and crowbars until the police dispersed them.
Anti-government demonstrators complained about unemployment and rampant government corruption.
"No one I know has a job. We graduated from university and we don't have jobs," said Akram Matharamy, one of the protesters. Yemen, one of the poorest and most volatile nations in the Arab world, has an estimated 35% unemployment rate. "We are poor because this regime is corrupt. Everything here is corrupt."
In the Jordanian capital, Amman, a demonstration outside the Husseini mosque turned unexpectedly ugly when a gang of more than 100 government supporters rushed in and began beating protesters with metal and wooden clubs. An estimated 300 demonstrators fled onto side streets while hundreds of police stood by and did not intervene, according to witnesses. At least eight people were injured.
"The police allowed those thugs to beat us up," said Mwaffaq Mahadin, a leftist columnist who was injured along with his son, a film director, who is in the hospital with a concussion. He said the protesters included lawyers, doctors, engineers and other professionals.
"This is a march we go on every Friday. We haven't changed our slogans or what we were saying for the past four weeks. Nothing about getting rid of the regime. We're asking about democratic changes. The 1952 constitution. Fighting corruption. Stopping normalization with Israel," Mahadin said.
Jordanian police said the incident began when government supporters who were conducting their own rally ran into the pro-reform demonstration and arguments ensued.
Taher Adwan, minister of state for media affairs, said the government condemned the attack as a violation of Jordanians' right to demonstrate peacefully.
The desert kingdom has had regular peaceful protests in recent days pressing King Abdullah II for political reforms. The government had unveiled a $230-million economic package in January, but as protests continued, the king sacked the Cabinet on Feb. 1.
Protests erupted for the first time in the oil-producing state of Kuwait on Friday. More than 1,000 stateless Arabs demonstrated in Jahra, west of Kuwait City, demanding citizenship, free education, free healthcare and jobs - benefits available to Kuwaiti nationals.
Many of Kuwait's stateless residents are descendants of nomads denied citizenship under the kingdom's strict laws.
Security forces used smoke bombs and water cannons to disperse the demonstrators.
Also testifying to the infectious fever of change, protests broke out Friday in the tiny East African nation of Djibouti, where thousands rallied to demand the president's resignation.
President Ismail Omar Guelleh has incurred the wrath of his countrymen by changing the constitution to scrap a two-term limit that would have prohibited him from seeking reelection in April. The Guelleh family has been in power for three decades in a nation of about 750,000 with rampant unemployment and life expectancy of only 43 years.
Djibouti, strategically located where the Gulf of Aden leads to the Red Sea and the Suez Canal, hosts the only U.S. military base in Africa at Camp Lemonnier.
Meanwhile, Moroccan websites are abuzz with news of planned protests Sunday against a government that critics consider corrupt, elitist and out of touch. A banned Islamist movement is using the moment to call for democratic change, although Moroccan authorities are responding with an official shrug.
Morocco's economy is among the most diversified and open in the region, with a solid banking system and tourism and services industry.
The king, and his father at the end of his reign, are credited with a number of political reforms.
Sandels is a special correspondent. Times staff writers Jeffrey Fleishman in Cairo, Kim Murphy in Amman, Carol J. Williams in Los Angeles, special correspondent Haley Sweetland Edwards in Yemen and Times wire services contributed to this report.