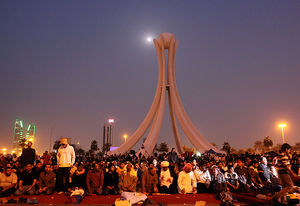 Talk of revolution in the normally placid Gulf comes down to the opinion and emotions of solidly middle-class Mohamed Ali, 31, a manager in a financial institution in the Bahraini capital of Manama. "We feel that our country is not belonging to us. We gave the government 10 years to resolve these issues," he says. "But what we got only promises."
Ali speaks for many of the thousands who, on Wednesday, were protesting for the third straight day in Manama's Lulu Roundabout, a busy city intersection now turned would-be Tahrir Square. Feeling disenfranchised from their own country Ali and his wife, have joined the ranks of protesters. Says he, "There is no equal opportunity."
Shi'a Bahrainis like Ali form a majority in the Gulf island, which has been ruled for 40 years by a Sunni minority. The Shi'a feel that the best jobs, the best opportunities are reserved for Sunnis and that they are placed behind Sunnis from other countries who get preference above Bahrainis. Since Feb. 14, protesters have converged at Lulu, calling for the removal of the Bahraini prime minister, Sheikh Khanifa bin Salman al-Khalifa, who has been in office - unelected - since 1971. By Wednesday, tweets reported that the protest tents were getting bigger and included more families. "Speeches varied," one poster wrote, "from thoughtful to fiery."
Wednesday's calm was deceptive. The day began with the funeral of a protester who died in a clash with riot police on Tuesday. And the deceased, Fadel Matrouk, had been killed while marching in the funeral procession of a young man killed the day amid protests. The Interior Ministry said it would prosecute the police if it finds that unreasonable force was used.
"The Bahraini government will likely handle the protests delicately for the next short while, hoping that things quiet down without any more damage being done to the country's reputation, which is a significant concern for the royal family," says Joshua Colangelo-Bryan, a New York attorney who is a consultant with Human Rights Watch. But, he adds, "if the protests persist or get more confrontational, we may well see the gloves come back off."
Unlike its Gulf neighbors, Bahrain has little oil of its own and little cash to spread around to pacify unhappy citizens. The tiny island kingdom is a regional financial hub - the industry makes up about a quarter of the economy there. Bahrain, located just offshore of Saudi Arabia, is also home to the U.S. Navy's Fifth Fleet, which Washington depends on to curtail the regional influence of Shi'ite Iran. In an attempt to soothe the dissatisfactions that have ignited into protests since the revolutions in Tunisia and Egypt, Bahrain last week said it would spend about $417 million on social programs, including subsidized food.
Still, the demographics are complicated for such a small place. The island is home to about 1.3 million people, about half of whom are expatriates (Mostly from India and other Arab countries). Of the native Bahrainis, about 70% are Shi'a.
Not all native Bahrainis are itching for regime change. Ehsan Al-Kooheji, who runs a startup IT company, says the protests, in fact, show how progressive Bahrain is, especially when compared with other Gulf countries.
"People are farther ahead along the democratic process," says Kooheji, who says he is part of a "silent majority" in Bahrain. "It is a testament to the success of reforms in Bahrain, whereas in some neighboring countries such talk of protesting will be clamped and neutralized before it even begins."
Demanding the downfall of a reformed government is not the way to build a better Bahrain, Al-Kooheji says. Ten years ago, King Hamad bin Isa al-Khalifa, the nephew of the Prime Minister, initiated a series of reforms that created a new constitution that allowed parliamentary elections. But the new legislature's limited clout has left the impression of stagnation in the eyes of the protesters, who feel their demands have not been heeded. "The parliament is only decorative," Ali says.
On Wednesday, pro-government Bahrainis held their own protests in Manama to express support for the sitting government. These Bahrainis drove around city streets holding displaying pictures of the King and ruling family outside of windows and waving the nation's flag. They chanted: "One nation, not two nations, Hamad is the King of Bahrain." Loyalists insist that the Shi'a's needs will eventually be met. "Bahrain has over the past few years been gently reforming it's job market," says Saleh Nass, a Bahraini filmmaker. "And this continues. So I maintain that you cannot achieve progress overnight, it's slow, time-consuming reform."
As protests continued late into the night on Wednesday, Nass insists life continues as normal. The stock market, banks and retails stores remain open. But he lives near Lulu roundabout and admits that traffic has been, well, unusual lately. "I hear helicopters," he says, "but life continues."