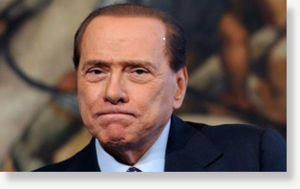 Despite newspaper claims that Karima el-Mahroug told the Italian prime minister she was a minor, he remains unruffled
Italy's prime minister, Silvio Berlusconi, has brushed aside his indictment on vice charges saying he was untroubled by the prospect of standing trial. In his first public comment since a judge committed him for trial on 6 April, he said: "For love of country I won't talk about it. Suffice to say that I am not in the slightest bit worried."
The prime minister, who was speaking at a press conference in Rome, cut short further questions on the affair saying: "We're here to deal with the economy after all."
Earlier, an Italian newspaper alleged Berlusconi was aware Karima el-Mahroug, the girl he allegedly paid for sex, was underage, according to a statement she reportedly made to prosecutors.
The centre-left daily
La Repubblica
has published an extract from el-Mahroug's alleged evidence, in which the Moroccan runaway said that when she first met Berlusconi she told him she was a 24-year-old Egyptian. But on a subsequent visit, in March 2010: "I told him the truth: I was a minor and I had no papers."
She said that at their first meeting, and before any relationship between them, the prime minister gave her €50,000 (£42,000).
Berlusconi denies any wrongdoing.
The prosecutors maintain el-Mahroug was aged 17 at the time, though defence lawyers are expected to argue her date of birth, as given in official documents, is wrong. The prime minister is charged with paying an underage prostitute and trying to cover up the fact by abusing his official position.
It had already been reported that el-Mahroug, who used the Facebook pseudonym Ruby Heartstealer, first met Berlusconi, then 73, at a party at his house on Valentine's night last year. La Repubblica said she told prosecutors on 3 August last year: "Berlusconi took me to one side and led me to a room where we remained alone. He told me my life would be changed and, even though he never spoke explicitly of sexual relations, it was not difficult for me to understand he was proposing I should have sex with him."
The paper said mobile telephone records showed El-Mahroug had been at Villa San Martino, the prime minister's mansion outside Milan, on seven occasions between February and May last year. It said that on four occasions she was present on successive days and that once she was at the mansion for three days.
Her longest stay covered a period in which Russia's prime minister, Vladimir Putin, was also hosted at Villa San Martino, though it is unclear whether he stayed there.
El-Mahroug was said to have told the prosecutors that she admitted to being under 18, the minimum age for prostitution in Italy, after Berlusconi offered to provided her with a rent-free flat on the estate he built outside Milan. Because of the papers that would have to be filled out, she said: "I had to tell him how things were."
Berlusconi allegedly replied: "I'll tell everyone that you are Mubarak's granddaughter and that way I can justify the resources I'll put at your disposal." The same version was said to have been given by Berlusconi to police in May last year after El-Mahroug was detained on suspicion of theft.
That incident put an end to the connection between them. The young Moroccan reportedly said Berlusconi's last words to her were: "We'll be able to see each other again once you've reached your majority."