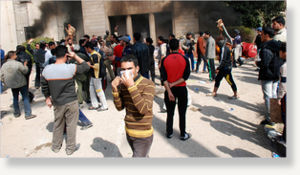 Baghdad - About 2,000 demonstrators attacked government offices in a southern Iraqi province, ripping up pavement stones to hurl at a regional council headquarters in a protest over shoddy public services that left dozens of people injured, officials said.
The demonstration was among the most dramatic since Iraqis began venting their anger about dysfunctional government at all levels in relatively small protests across the country - an echo of the tumult happening across the Arab world. Unlike protesters in other countries demanding democracy or regime change, however, demonstrators in Iraq have focused on unemployment, corruption and a lack of electricity.
The top medical official in Wasit province, Diaa al-Aboudi, said 55 people were injured - including three critically - in the protests in the city of Kut, 100 miles (160 kilometers) southeast of Baghdad. He said some of them were shot by police while others were hit by stones or suffered burns.
Kut police denied firing on the protesters and blamed the governor's bodyguards and private security guards at one of the buildings. The governor could not immediately be reached for comment. But al-Aboudi said witnesses and ambulance workers reported that police fired on the demonstrators. Al-Aboudi also said demonstrators threw stones at ambulances who came to rescue the wounded.
Protesters threw stones at the provincial council headquarters, set a trailer outside the building on fire and rushed inside the compound, said Sondos al-Dahabi, a spokeswoman for Wasit province. She added that authorities have imposed a curfew in the city as night fell.
Television footage obtained by The Associated Press showed billows of smoke, a palm tree on fire and protesters, many of them teenagers, filling the headquarters compound. The sound of gunshots could be heard and demonstrators could be seen riding on a commandeered police truck and armored personnel carrier, waving Iraqi flags.
Protesters also went to the governor's headquarters, leaving a mess in their wake before heading to the governor's house, al-Dahabi said.
According to the spokeswoman, the demonstrators tried to set fire to the governor's house, which was empty at the time. It was not clear whether the house was damaged.
Iraq is one of the few countries with a democratically elected government in the Middle East but leaders here have not been immune from the anger engulfing the region. Iraqis have a long list of grievances against their leaders including electricity that sometimes works only a few hours a day, unemployment that runs as high as 30 percent, and rampant corruption.
As security has improved in the country following the worst of the sectarian bloodshed of 2006 and 2007, attention has turned to quality of life and economic issues instead. Wasit is a mostly Shiite province bordering Iran and is one of Iraq's poorest regions.
"It is us who brought the governor and other officials to office through the provincial elections, but in return we got nothing," said Hassan Ali Murwah, one of the protesters. "We will repeat such protests, and no force on earth can stand against us."
In the northern city of Sulaimaniyah, 160 miles (260 kilometers) northeast of Baghdad, hundreds of demonstrators also thronged the streets demanding better services.
Iraqi leaders have been eager to prevent a repeat of the scenarios played out in Egypt or Tunisia. Earlier this week, Iraq announced it would delay the purchase of American fighter jets and use the money to buy food for the poor. They've also vowed to reduce electricity tariffs.
Iraqi Prime Minister Nouri al-Maliki has also announced he won't seek a third term when his current one expires in an attempt to set himself apart from Mideast leaders who have held onto power for decades.