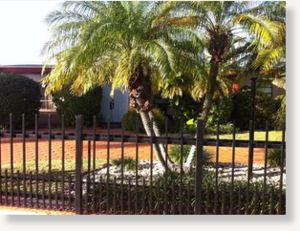 Residents of the quiet neighborhood in western Miami-Dade County where Jorge and Carmen Barahona lived with their adopted children have spent the last two days wondering how a couple who seemed so quiet and orderly could be involved in a multicounty criminal investigation.
A woman who identified herself as Norma and who lives next door to the Barahona family said Tuesday she hasn't slept since Miami-Dade police officers knocked on her door at 10 a.m. Monday asking for Jorge and Carmen's telephone number.
Jorge Barahona, 53, and his 10-year-old son Victor, were found about 7 a.m. Monday by the side of northbound Interstate 95, between Palm Beach Lakes Boulevard and 45th Street in West Palm Beach, in a truck covered in dangerous chemicals. A body in a bag was also found on the bed of the truck. Father and son remained hospitalized, according to police.
Norma, who has been watching Princess, the Barahona's beagle, since police searched the house Monday, said she and Jorge would often speak across the fence in their back yards. He was always friendly, and once even fumigated her back yard, she said.
The kids seemed well-behaved and taken care of, she said, adding that the last time she saw them was in mid-January, when they were helping Jorge remove Christmas decorations from the front lawn. She could not specify how many kids she saw outside that day.
"I was always so happy that these kids, who were in foster care, were so well taken care of and found a good home," Norma said.
But neighbors were unaware that the state Department of Children and Families had been investigating an allegation that Barahona and his wife abused or neglected their four adopted children.
"Every afternoon I walk in front of the house, and I never saw anything out of the ordinary," said neighbor Julia Toledo, who on Tuesday approached the beige-colored home on Southwest 47th Terrace to inquire about the crime scene tape.
A Miami-Dade police car remained parked in front of the home Tuesday afternoon. Gates on either side of the home remained open, revealing several old ladders, a blue plastic kiddie pool and a recycling bin overflowing with plastic water bottles.
Authorities say the Barahonas operated a home-based pest-control company. Norma said Jorge usually left for work before dawn and would return at 11 a.m. or noon.
"That's why when I heard on the news that he was in West Palm Beach, I thought it was unusual," Norma said. "He usually comes home early."
Unfolding mystery
The sequence of events that led to the discovery of a body in a bag and a 10-year-old boy covered in acid started early Monday morning.
5 a.m.: Road Ranger identifies truck on the side of Interstate 95, but assumes that it's not an emergency and continues on.
7:29 a.m.: Road Ranger sees truck on the side of the road and pulls over. Discovers man and child passed out. West Palm Beach Fire Rescue teams are dispatched.
7:37 a.m.: First fire rescue unit arrives on the scene, along with ladder 5.
7:58 a.m.: Rescue workers transport Victor Vocter, 10, to St. Mary's Medical Center.
8:05 a.m.: West Palm Beach Hazmat is dispatched to the scene.
10 a.m.: Miami-Dade Police arrive at the home of Jorge Barahona in western Miami-Dade County searching for family members.
12:17 p.m.: Fire rescue leaves the scene; Florida Highway Patrol takes over, filling out a chemical spill report. Meanwhile, rescue workers report that they are feeling ill and must be treated for exposure. The Highway Patrol calls the state Department of Environmental Protection to the scene.
Around 1 p.m.: DEP arrives to "neutralize" acid with sodium bicarbonate and summons a contractor to remove the vehicle.
3 p.m.: Removal of vehicle begins.
3:45 p.m.: Contractor discovers a body wrapped in bag.
5:05 p.m.: Hazmat team is dispatched to the scene again.
8-9 p.m.: Miami-Dade Police and a Hazmat team arrives at the Barahona home for a welfare check on the remaining children. They were removed from the home Tuesday.
Sources: Florida Highway Patrol; Department of Environmental Protection; West Palm Beach Police; and Miami-Dade Police.