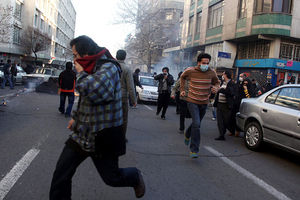 In Year's Biggest Rally, Iranians Seek Spiritual Head's Ouster
Iranian police used tear gas and electric prods to crack down on the country's biggest antigovernment protests in at least a year, as demonstrators buoyed by activism across the Middle East returned to the country's streets by the tens of thousands Monday.
The day of planned antigovernment rallies began largely peacefully, according to witnesses, with protesters marching silently or sitting and chanting. But as demonstrators' ranks swelled, police and antiriot forces lined the streets, ordered shops to shut down and responded at times with force, according to witnesses and opposition websites, in a repeat of the official crackdown that helped snuff out months of spirited opposition rallies a year ago.
By day's end, online videos showed garbage bins on fire, protesters throwing rocks at the police and crowds clashing with motorcycle-mounted members of the pro-regime Basij militia.
Monday's protests come as calls for regime change have led to the popular ousters of Egypt's Hosni Mubarak and Tunisia's Zine al-Abidine Ben Ali. They mark a broadening from Iranian rallies that drew hundreds of thousands through 2009 and early 2010.
Those rallies targeted what opposition leaders said was a flawed presidential election that they say unfairly returned President Mahmoud Ahmadinejad to power. Monday's protests, by comparison, demanded that Supreme Leader Ayatollah Ali Khamenei, the core of power in the Islamic Republic, step down.
"Mubarak! Ben Ali! It's now the turn for Seyed Ali!" people chanted, according to witnesses and videos, referring to the country's spiritual head.
In Tehran's Enghelab Avenue, the main route for the rally, a crowd of young men and women on Monday evening stomped on a giant banner depicting Mr. Khamenei and set it on fire, a sign of deepest disrespect in the Muslim world. Videos of the scene showed crowds cheering in response.
Iran's government and its opposition alike have sought to identify themselves with the mood of change sweeping the Middle East. Iranian officials sought to paint this year's Arab revolts as Islamic uprisings like the Iranian revolution that toppled the U.S.-backed Shah Mohammad Reza Pahlavi more than 30 years ago.
Iran's opposition protesters, meanwhile, have renewed their challenge to the government, emboldened by rallies led by a similar cadre of educated, tech-savvy youth seeking better economic opportunity and more political freedoms.
Those who saw the rallies in Tehran placed the number of protesters in the capital in the tens of thousands. Witnesses in the cities of Mashad, Isfahan and Tabriz saw crowds they estimated at thousands of demonstrators each, with blog reports and other online dispatches placing overall participation in such cities at over 10,000 each.
Iranian officials have all but banned reporting on anti-regime protests, making it difficult to estimate not only the size of crowds, but the number of casualties, fatalities and arrests.
Iran's protests coincided with a visit Monday by Turkish President Abdullah Gul, who briefly addressed the unrest sweeping the Mideast at a joint press conference with Mr. Ahmadinejad. "We see that sometimes when the leaders and heads of countries do not pay attention to the nations' demands, the people themselves take action," Mr. Gul said. He didn't mention Iran.
Iranian officials didn't comment on Monday's protests. The Fars News Agency, affiliated with the country's Revolutionary Guards, reported that a "group of thugs" commissioned by the U.S. and Israel had taken to the streets to cause riots. Fars News said protestors had shot and killed one person and injured several others.
U.S. Secretary of State Hillary Clinton on Monday charged Tehran's leadership with hypocrisy following its stated support for Egyptian protesters.
Iran's government "over the last three weeks has constantly hailed what went on in Egypt, and now, when given the opportunity to afford their people the same rights...once again illustrate their true nature," Mrs. Clinton told reporters in Washington. "We wish the opposition and the brave people in the streets across cities in Iran the same opportunity that they saw their Egyptian counterparts seize in the last week."
To support Iranian protestors, the State Department began using social media, particularly Twitter - sending its messages, for the first time, in Farsi - in calling on Iran's government to allow protestors to freely assemble and communicate.
Separately, an online collective known as "Anonymous" said it had launched so-called denial of service attacks on a number of high-profile Iranian government sites. In a DOS attack, computers flood a server to prevent it from displaying a web page.
The group, which has attacked a number of corporate and other websites in apparent retaliation for moves against the document-leaking organization WikiLeaks, targeted the websites of Iran's state news broadcaster and the website of President Ahmadinejad, among others. It is unclear how successful the attacks were, but those two sites weren't accessible late Monday.
This year's uprisings in Tunisia and Egypt have inspired populations across the Middle East, showing how rulers once thought invulnerable could be toppled in a wave of popular discontent. Iran's regime has so far provided a counterexample, as it has shown less reluctance to take a violent line against its people. Opposition groups and human-rights organizations say more than 100 people were killed and more than 5,000 jailed in Iran's demonstrations of late 2009 and early 2010.
Opposition leaders in Iran started with relatively modest goals after the 2009 election, including nullifying the election results, which they said were rigged. Iranian officials said the results reflected the will of the people.
Now, analysts say, revolts in Egypt and Tunisia have galvanized Iranian protesters around the goal of regime change. "It's very clear that we are now way beyond a post-election crisis," said Hamid Dabashi, professor of Iranian studies at Columbia University. "People are going after the regime."
Monday's protests began peacefully in the early afternoon as men and women streamed on foot along pre-designated routes in multiple cities such as Tehran, Isfahan, Mashad and Shiraz. Drivers honked in support. Shopkeepers waved the victory sign.
In response, the government deployed heavy security. Cellphone and text-messaging service was down along the protest routes, Iranians reported.
As the afternoon waned, crowd swelled and began chanting against Mr. Khamenei, according to eyewitnesses and reports posted on the Internet. Security forces attacked people with electric prods and tear gas. Protesters ran and hid, and then regrouped defiantly a few feet away.
One witness described a scene in which a flower-decorated car in a bridal convoy became stuck in the protests. With security forces in pursuit of demonstrators, a bride in full regalia stepped out of the car and helped shove protesters inside to protect them, this person said.
Witnesses said the plain-clothes Basij militia were dispatched on motorbikes and vans later in the evening. They took position in side streets and beat protesters with sticks and batons, witnesses said.
Various observers reported several injuries and arrests. Their accounts weren't possible to verify.
"I saw a young woman thrown to the sidewalk, her head split open and she was bleeding, but the guy kept kicking her," a young man from Tehran said via Internet chat.
A young female activist said by telephone from the city of Isfahan that plain-clothes Basij militia had attacked a group of young men and women and dragged them into a parking lot on Revolution Avenue. They locked the gate and began beating them with wooden sticks and electric batons as the protesters fell to the ground and screamed, the activist said.
"Everyone was terrified and we felt helpless. All we could do was shout 'Death to the Dictator,' but the police chased us," said the activist.
Opposition leaders Mir Hossein Mousavi and Mehdi Karroubi had called the protest and vowed to participate. But they were put under house arrest all day, according to opposition web sites. When Mr. Mousavi and his wife attempted to leave the house, security forces stopped them, and blocked their street with multiple police cars, according to the website.
As darkness fell on Tehran, the city was rocked again by the chants from residents on rooftops across the capital: "God is great," and "Death to the dictator," according to witnesses. The Facebook page of the protest, 25 Bahman, said it would soon announce further plans for demonstrations in the following days.
Jay Solomon in Washington and Cassell Bryan-Low in London contributed to this article.