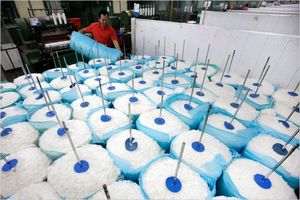 A package of Oscar Mayer cold cuts. A pair of Nine West boots. A Whirlpool washing machine.
By the fall, people will most likely be paying more for each of them, as rising prices hit most consumer goods, say retailers, food companies and manufacturers of consumer products.
Cotton prices are near their highest level in more than a decade, after adjusting for inflation, and leather and polyester costs are jumping as well. Copper recently hit its highest level in about 40 years, and iron ore, used for steel, is fetching extremely high prices. Prices for corn, sugar, wheat, beef, pork and coffee are soaring. Labor overseas is becoming more expensive, meanwhile, and so are the utility bills to keep a factory running.
"There are cost pressures from virtually everywhere," said Wesley R. Card, the chief executive of the Jones Group, whose brands include Nine West and Anne Klein. After trying to keep retail prices flat or even lower during the recession, Jones
says prices for its brands will climb 15 to 20 percent by autumn
.
When commodity prices started to rise last summer, many manufacturers and retailers absorbed the costs, worried that shoppers would not pay higher prices during the competitive holiday season or while the economy was still fragile.
Many big companies, including Kraft, Polo Ralph Lauren and Hanes, say they cannot hold off any longer and must raise prices to protect some profits.
Whether shoppers will pay is unclear. "Consumers are not exactly in the frame of mind or economic circumstances to say 'Oh, pay whatever they ask,' " said Joshua Shapiro, chief United States economist at MFR Inc. "There's going to be pushback."
Economists say the increases may eventually show up as inflation, though they are not yet projecting rates that would set off alarms. Despite some fears, inflation has been extremely low, at a rate of just 1.4 percent annually in December. Data for January will be released Thursday, but economists expect inflation will run about 2.5 percent this year.
Some do see the creeping signs of higher inflation, and warn that the Federal Reserve will need to raise interest rates or at least stop pumping more money into the economy. Others argue that such moves would choke off economic growth sorely needed to get companies hiring again.
For consumers, higher prices in stores means there will be a little less extra cash to spend. For companies, profits may be squeezed, making them a little less likely to invest in equipment or to hire aggressively.
"One has to think about these higher prices not as a reason for economic activity to get derailed," said John Ryding, chief economist at RDQ Economics, "but as a reason why the recovery is slower than might otherwise be the case."
Given that the price of a gallon of gas is now well over $3 on average, Americans may feel that they are already dealing with higher prices.
Adding to the cost of food won't greatly distort most household budgets. Food, gas, clothing, personal care products and cleaning and laundry supplies make up less than a quarter of household spending in the United States, according to government data.
People at the bottom of the income scale struggle more as these prices rise, of course, because a larger share of their spending is on such essentials.
To some, the prospect of modestly higher prices is no reason to worry. In fact, rising prices can indicate improving economic conditions. Greater demand from fast-growing countries like China has helped push up the costs of many raw materials - though officials there are worried about inflationary pressures, as are some officials in Europe.
In the United States, the willingness of companies to raise prices shows they are feeling better about the domestic recovery.
The sharp rise in commodity prices since last year has not translated into all new records. Food commodity prices are about 8 percent below the high in the summer of 2008, while energy prices are less than half their zenith. Prices of a basket of other commodities are about 4 percent below the heights of mid-2008.
The cost of raw materials accounts for a small portion of the cost of most consumer goods, as labor, processing and packaging tend to make up a larger share of the price at the cash register. Foods like coffee, meat and milk, which are closer to raw materials, will probably show some of the biggest price jumps.
Companies that try to pass on all their costs could meet resistance. Although consumer spending has risen, unemployment remains at 9 percent, and average hourly earnings are up less than 2 percent over the last year.
"These companies are constantly walking a tightrope on how far do I go," said Jack Russo, a consumer goods analyst at Edward Jones. "Do I offset with price or other cost cuts, or do I just take it and have it eat into my profit margins?"
Already, rising raw material costs have cut into corporate profits. Kimberly-Clark, which makes Kleenex tissues and Huggies diapers, said fiber- and oil-based products had contributed to a small dip last quarter. Procter & Gamble said earnings fell slightly in the division that makes Crest toothpaste, as well as in its household brands unit, which makes Tide and Cascade.
Plenty of companies are indicating they will push up retail prices. Kraft, the largest United States food manufacturer with brands like Oscar Mayer, Velveeta and Ritz crackers, said it would raise prices on many products this year without saying which ones or how much.
Soaring prices for coffee have pushed up costs at the coffee shop. Starbucks said last fall that it would raise some prices. Sara Lee, which sells Hillshire Farms meat and Senseo coffee, said that it would, too, on many items.
Restaurants, which resisted raising prices to keep customers coming through the doors last year, are also fretting. They may take other steps too, like lowering thermostats, shrinking packaging or reducing portion sizes to minimize the sticker shock.
Meat prices have surged because of the cost of feed, a decision by farmers to raise fewer cattle and pigs, and strong demand worldwide as living standards rise. An epidemic of foot-and-mouth disease that devastated South Korean hog farms has led to a recent surge in orders for American pork.
This year, "you're going to have to raise prices to stay in business," said Len M. Steiner, owner of the Steiner Consulting Group, which works with restaurant companies on ingredient purchasing.
Whirlpool says consumers can expect to pay 8 to 10 percent more for its products starting April 1. Apparel companies like Polo Ralph Lauren and Brooks Brothers said they would raise prices this year. Hanes Brands, which has already done so, said prices on cotton-heavy products would rise again at the end of summer. If cotton costs stay high, Hanes products could have a cumulative 30 percent increase.
Some companies don't think they can get away with charging more. PepsiCo, which makes soft drinks and snacks, like Fritos, said it would be cautious.
Victoria's Secret is nudging prices ever so slightly, with panties rising from five for $25 to five for $25.50.
John D. Morris, an analyst with BMO Capital Markets, said retailers would probably try to manage costs in myriad ways.
Prices rose significantly in the apparel sector from 1972 to 1974, driven by labor costs and commodity prices, he said.
"The retailers went on to have a pretty good year in '73," Mr. Morris said. "Sales were up, gross margins were flat, and profit margins were up a little bit. Retailers found a way."