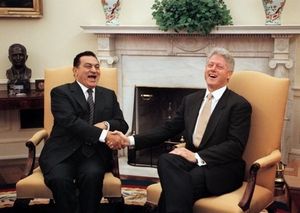 Security forces and thugs have raided and looted the International Center for Media in the Egyptian capital, Cairo, as the revolution in the crisis-hit country enters its 13th day.
The International Center for Media announced on Sunday that all the equipment at its Cairo office has been seized by the assailants, a Press Tv correspondent reported.
This is while, Egypt's main opposition group, the Muslim Brotherhood, has started landmark talks with Egyptian Vice President Omar Suleiman demanding an immediate elimination of Emergency Law and guarantees for peaceful protests.
Meanwhile, much larger crowds of Egyptian protesters have been entering Cairo's Liberation Square to mark the 13th day of revolution, dubbed "Day of Martyrs."
The Egyptian army has tightened security around the square in the Egyptian capital.
Egypt's incumbent President Hosni Mubarak, however, insists that he will stay in office until the next presidential election in September.
On Saturday, Egyptian state television announced that Mubarak has resigned as chairman of the ruling National Democratic Party.
Senior members of Mubarak's party also resigned on the same day, but demonstrators staging a 12th day of revolution rejected the shuffle as a cosmetic move.