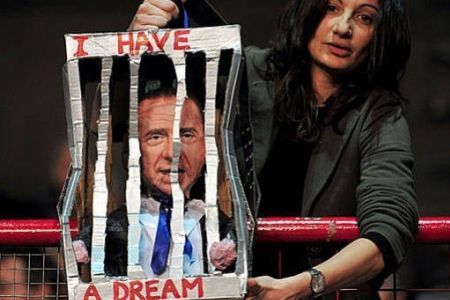 Italian anti-riot police have arrested two protesters at a thousand-strong rally held in Milan against scandal-plagued Prime Minister Silvio Berlusconi.
Thousands of Italian protesters, including writers and intellectuals, protested on Sunday, demanding the premier's resignation as soon as possible.
"Resign, resign!" the protesters shouted at the gates of Berlusconi's private villa in the Milan suburb of Arcore, where he was spending the weekend.
Clashes with riot-police erupted when protesters tried to break a security cordon erected several hundred meters from Berlusconi's residence. They threw bottles and other objects at the Italian police.
Another clash took place in front of Arcore's train station between several officers and demonstrators, which left a journalist injured, police said. Police arrested two protesters in the clash.
The organizer of the rally was an Italian activist group called Justice and Freedom.
"I think maybe it's time for him to leave, to go away with his millions. Either that or he does as any Italian, who does something wrong would have to do which is going to court. If he doesn't go to court, it's all just words," Reuters quoted a demonstrator as saying.
The Italian protesters accused the premier of damaging the country's international reputation.
Berlusconi has come under fire for his sex scandals. Reports revealed that he had been using a bank account in Milan to make payments to showgirls and models that attended parties at his mansion on the outskirts of the city.
The Italian prime minister has resisted calls to quit over the scandal that has made a household name of "Ruby," a teenage nightclub dancer he is accused by prosecutors of having paid for sex while she was under 18, the earliest legal age for prostitution in Italy.