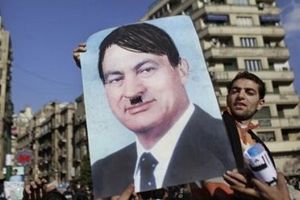 Noted Egyptian opposition figure Mohamed ElBaradei blames Cairo for clashes between anti-government protesters and the regime's so-called sympathizers, warning it could lead to a "bloodbath."
Posing as supporters of President Mohamed Hosni Mubarak, plainclothes police officers attacked the demonstrators in the capital.
At least one person has been killed and hundreds of people have so far been injured in Wednesday's clashes.
Reports also say that security forces have also attacked people in Suez and Alexandria, both in the northeast.
On Wednesday, ElBaradei accused Cairo of using "scare tactics" and denounced the pro-regime supporters as a "bunch of thugs," Reuters reported.
"My fear is that it will turn into a bloodbath," he warned.
"I'm extremely concerned. I mean this is yet another symptom, or another indication, of a criminal regime using criminal acts."
The country witnessed on Wednesday the ninth day of unprecedented protests against the three-decade-long rule of Mubarak. At least 300 people have died since the protests began last week.
The uprising is inspired by Tunisia's recent revolution, which ended the 23-year-long rule of the country's President Zine El Abidin Ben Ali.
On Tuesday, the United Nations called on the Egyptian leadership to pay attention to the demands of the people for democratic reform and respect human rights.