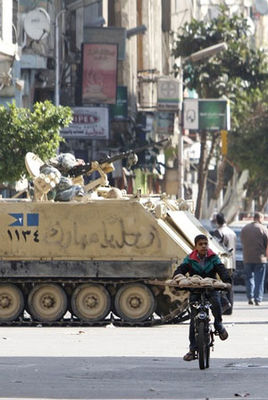 Authorities respond to growing fears of shortages; Egypt still had sufficient stocks of food, cash and fuel.
There is no money at the banks. Fuel is scarce. Tourism is evaporating.
As a popular uprising to oust President Hosni Mubark enters its second week, Egyptians are feeling the economic pinch.
Banks have been shut since Sunday, and they remained so on Tuesday, the day that protesters hope will see a million-strong demonstration in Cairo to demand an end to Mubarak's regime.
Many automatic teller machines (ATM) in the teeming capital have run out of cash, and those still working were dispensing only a limited number of banknotes.
"I scoured the city in search of an automatic teller and I found only one place -- in a neighbourhood where people do not normally use ATMs," said Mohamed, a driver.
In Cairo, supermarkets that usually accepted credit cards insisted on cash instead, while crowds flocked to grocery stores in several neighbourhoods to stock up on essentials.
Many gas stations were closed, with long lines at those that were still open. The Chamber of Commerce in Cairo appealed to shopkeepers on Monday to reopen, but most ignored the call.
Some kiosks complained of an early shortage of cigarettes, in a country with a large number of smokers and relatively cheap tobacco. Top-up cards for mobile phones were also running short.
Responding to growing fears of shortages, the authorities said Egypt still had sufficient stocks of food, including wheat reserves, to feed itself until June.
Tourism, a crucial source of foreign revenue, has been hit hard by the uprising in which at least 125 people have died and thousands injured since it began last Tuesday.
This is high season for the tourist industry, with Europeans escaping their winter for sunshine by the Red Sea and the River Nile, but many tour operators have suspended departures and leisure bookings have dried up.
With 14.7 million visitors in 2010 and revenues estimated at about 13 billion dollars, tourism is an important source of income for Egypt, a developing nation with an estimated 20 percent living under the poverty line.
Some foreign firms have suspended their activities, such as the Danish shipping and oil concern A.P. Moeller-Maersk, the French cement manufacturer Lafarge and Japanese automaker Nissan.
Egyptair cancelled all domestic and international flights between 3 p.m. and 8 a.m. -- the hours of a government-imposed curfew -- starting Monday. Other flight times are to be modified.
Air freight is off sharply as well, said Ayman Nasr, head of Egyptair's cargo department.
He said foreign trade had been affected by "the inability to pay for imports due to lack of liquidity resulting from the closure of banks or, the inability to arrive at the airport (to collect shipments) due to the curfew."
The Cairo stock exchange had been shut since Thursday, after more than 10 percent of its value or 70 billion Egyptian pounds (about 12 billion dollars) was wiped out over its last two days of trading.