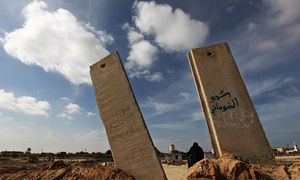 Rafah border closure expected to last for several days as Israel warns of increase in weapons smuggling during unrest in Egypt
Hamas officials today closed Gaza's southern border as Israel warned that the turmoil in Egypt could result in increased smuggling of weapons into the volatile territory.
The closure of the Rafah border crossing was expected to last for several days at least, said Ghazi Hamad, the Hamas official in charge of the Gaza side of the terminal.
A Hamas delegation which was due to travel through Egypt to Syria to discuss the fate of captured Israeli soldier Gilad Shalit postponed its trip.
Israel army radio said the military were preparing for an increase in arms smuggling to Gaza.
An Israeli official told the
Guardian
: "There is obviously concern around the whole issue of weapons smuggling. Egypt is our ally in preventing the flow of arms, and on the assumption that Egyptian forces are occupied [with the unrest], Hamas and its allies could be exploiting that situation. That is our immediate concern."
Israel has been cautious in commenting on the wave of protests sweeping Gaza, and prime minister Binyamin Netanyahu instructed ministers and officials to refrain from making statements.
Netanyahu today told cabinet colleagues: "We are anxiously monitoring what is happening in Egypt and [elsewhere] in our region. Our efforts are designed to continue and maintain stability and security in our region."
Egypt is an important regional ally of Israel since signing a peace agreement between the two countries more than 30 years ago.
Under the terms of the treaty, both countries agreed to limitations on military presence along the border. However, the Egyptian army was reported to have moved into the Sinai peninsula. Asked if the move had Israel's prior knowledge or agreement, the official declined to comment.
In Gaza, petrol pumps began to run dry today after most tunnels used to smuggle commercial goods closed. Israel allows only a limited amount of petrol into Gaza every week, and most people depend on fuel smuggled from Egypt, which is almost five times cheaper.
At the Tarzin petrol station - one of the few with fuel left to sell - long queues of cars formed in heavy rain.
Yousef Mardi, 22, was among those waiting: "I've been looking for somewhere to fill my car since yesterday. This is the only place left with diesel. There is no more petrol left anywhere.
"Even though we are suffering, we have to support what they are doing (in Egypt). They are poor like us. We understand what they're going through."
Bassam Rajab, 28, a pump-attendant at Tarzin, expected to run of fuel before the end of the day. He explained: "The problem is with the smugglers on the Egypt side. While there is so much violence there, it's too dangerous to drive cars full of fuel to the border. If they are shot by the military, their car will explode like a bomb."
The fuel shortage also affects families and businesses who rely on diesel-powered generators during power cuts which last up to eight hours a day.
Fatma Mazanan, 50, a housewife and mother of five, was stockpiling cooking oil and fuel for the family generator. "Who knows how many days of chaos there will be? Who knows how the Israeli's will respond? Many families fear that this crisis is only just beginning. I am very worried for my family," she said.
Reem Al Sharif, 30, whose husband had queued for with huge crowds for generator fuel, said: "We have managed to stock up for now but we don't have anything here in Gaza. The tunnels with Egypt were the lungs we used to breathe.
"We're watching what happens in Egypt very closely. For the past few days, families across Gaza have just stayed in - we're watching the news all the time."
The Shifa Hospital, the biggest in Gaza, depends on generators for four hours a day, using 6,000 litres of petrol. Dr Fawzi Nablusia, director of the Intensive Care Unit (ICU), said the fuel shortage was a catastrophe.
"We are completely dependent on electricity, it's simply not possible to ration it. Our ventilators, the oxygen supply, the monitoring devices, all of the machines must run constantly."
The hospital has begun to use its fuel reserves and has enough keep going for eight days. Ambulance drivers have also been forced joined three-hour long queues at petrol stations.
"Running out of fuel is a catastrophe I can't even entertain," said Nablusia.