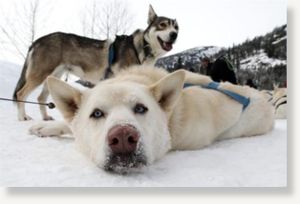 An official of the SPCA in British Columbia says word of a slaughter of sled dogs in Whistler warrants a criminal investigation.
Marcie Moriarty, general manager of the group's cruelty investigations, says the description of the April 2010 incident is an "absolutely criminal code offence," although there is no indication a police investigation is underway.
Documents obtained by CKNW radio reveal about 100 healthy sled dogs were killed in a mass slaughter in Whistler last April 21 and 23.
According to the WorkSafe B.C. documents, an employee of Outdoor Adventures Whistler has been compensated for post-traumatic stress disorder after being ordered to shoot the animals.
The documents reveal bookings for dog sled tours collapsed after the Olympics and when the company could not find homes for its animals, it ordered the cull.
Outdoor Adventures Whistler did not contest the details in the WorkSafe documents except to indicate that the injured worker claimed to have killed 70 dogs, but 100 were actually destroyed.
Source: CKNW