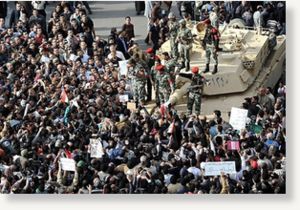 Egyptian opposition leader Mohamed ElBaradei told thousands of protesters in central Cairo on Sunday that an uprising against Hosni Mubarak's rule "cannot go back."
ElBaradei, a Nobel peace laureate and retired international diplomat, said earlier he had been given a mandate to make contact with the army and build a new government in Egypt.
"I bow to the people of Egypt in respect. I ask of you patience, change is coming in the next few days," he said.
"You have taken back your rights and what we have begun cannot go back," he said as crowds chanted "Down with Mubarak."
"We have one main demand -- the end of the regime and the beginning of a new stage, a new Egypt."
Mubarak, clinging on despite unprecedented demands for an end to his 30-year rule, met on Sunday with the military which is seen as holding the key to Egypt's future while in Cairo.
"Mubarak has to leave today," ElBaradei told CNN before joining up to 10,000 demonstrators who defied a curfew to gather in Tahrir, a rallying point in the center of Cairo
.
Protesters are angry over poverty, corruption and political repression.
They held banners saying "Game over Mubarak" and "Please leave, you psycho, Hear the voices of 80 million Egyptians
."
"I don't care who becomes president at this point. I don't necessarily support ElBaradei but the fact is he's showing there is an alternative," said Laila Ali, a 35-year-old mother of two. "Mubarak has to go, preferably today rather than tomorrow."
Others were skeptical of the bespectacled ElBaradei, who has been criticized by many government opponents in recent months for spending a lot of time outside the country.
Some protesters argued among themselves over the pros and cons of ElBaradei. A few posters said "ElBaradei no!." But he later left in a car as a crowd of supporters ran after him in a stampede that almost caused him to fall.
"He is Egyptian like the rest of us. We don't need him down here. But of course anyone that joins is most welcomed," said Mustafa, 24, a pharmacist.
But asked if he would support ElBaradei for president, he added: "He is a decent man. He understands politics and
we will accept any leader as long as they respect our freedom, ensure there is democracy. Anything other than that we will be back on the streets
."