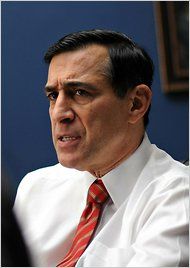 Washington - Representative Darrell Issa calls it a way to promote transparency: a request for the names of hundreds of thousands of ordinary citizens, business executives, journalists and others who have requested copies of federal government documents in recent years.
Mr. Issa, a California Republican and the new chairman of the House Committee on Oversight and Government Reform, says he wants to make sure agencies respond in a timely fashion to Freedom of Information Act requests and do not delay them out of political considerations.
But his extraordinary request worries some civil libertarians. It "just seems sort of creepy that one person in the government could track who is looking into what and what kinds of questions they are asking," said David Cuillier, a University of Arizona journalism professor and chairman of the Freedom of Information Committee at the Society of Professional Journalists. "It is an easy way to target people who he might think are up to no good."
Mr. Issa sent a letter on Tuesday asking 180 federal agencies, from the Department of Defense to the Social Security Administration, for electronic files containing the names of people who requested the documents, the date of their requests and a description of information they sought. For those still pending after more than 45 days, he also asked for any communication between the requestor and the federal agency. The request covers the final three years of Bush administration and the first two years of President Obama's.
"Our interest is not in the private citizens who make the requests," said Kurt Bardella, a spokesman for Mr. Issa. "We are looking at government responses to these Freedom of Information requests and the only way to measure that is to tally all that information."
Yearly, the federal government receives about 600,000 FOIA requests, as they are called, a vast majority from corporate executives seeking information on competitors that might do business with the government. A much smaller number comes from civil libertarians, private citizens, whistle-blowers or journalists seeking information on otherwise secret government operations.
Federal agencies typically keep logsof these requests, and some even post them on their Internet sites. But officials often remove the names of private citizens when releasing the logs to protect their privacy.
Professor Cuillier said that while Mr. Issa's objectives might be admirable, his request was not practical. The congressman asked the agencies to respond by mid-February, but a comprehensive response could take months, delaying other pending requests.
The Obama administration has tried to improve the FOIA process, with agencies told within days of his inauguration that they should "adopt a presumption in favor of disclosure."
But civil liberties groups complain that not all agencies are honoring this order. The Department of Homeland Security, for example, delayed some responses last year after it required career staff members to notify political appointees about inquiries submitted by certain news organizations and by a privacy group that has opposed the use of full-body scanners at airports.
A staff member on Mr. Issa's committee said the congressman's interest in the documents issue was spurred by such complaints. John Verdi, a senior counsel at the Electronic Privacy Information Center, whose FOIA requests last year to the Homeland Security Department were subjected to political review, said he welcomed Mr. Issa's inquiry. Federal law allows information to be withheld only for specific legal reasons.
But Mr. Verdi was uncomfortable with the idea of any single government entity having a list of every person who has made a FOIA request. "This is data that could be used to track who the biggest gadfly is," he said.
Mr. Bardella said the oversight committee frequently received important information, like mortgage documents or corporate records, and was able to review them without compromising anyone's privacy. It could be hard to check, though. Congress excluded itself from the Freedom of Information Act.